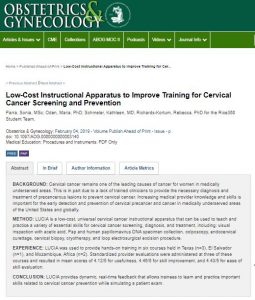 READ THE ORIGINAL ARTICLE >
(NOTE: Using the EVA System to visualize and document the instruction with the cervical cancer instructional apparatus.)
BACKGROUND: Cervical cancer remains one of the leading causes of cancer for women in medically underserved areas. This is in part due to a lack of trained clinicians to provide the necessary diagnosis and treatment of precancerous lesions to prevent cervical cancer. Increasing medical provider knowledge and skills is important for the early detection and prevention of cervical precancer and cancer in medically underserved areas of the United States and globally.
METHOD: LUCIA is a low-cost, universal cervical cancer instructional apparatus that can be used to teach and practice a variety of essential skills for cervical cancer screening, diagnosis, and treatment, including: visual inspection with acetic acid, Pap and human papillomavirus DNA specimen collection, colposcopy, endocervical curettage, cervical biopsy, cryotherapy, and loop electrosurgical excision procedure.
EXPERIENCE: LUCIA was used to provide hands-on training in six courses held in Texas (n=3), El Salvador (n=1), and Mozambique, Africa (n=2). Standardized provider evaluations were administered at three of these courses and resulted in mean scores of 4.12/5 for usefulness, 4.46/5 for skill improvement, and 4.43/5 for ease of skill evaluation.
CONCLUSION: LUCIA provides dynamic, real-time feedback that allows trainees to learn and practice important skills related to cervical cancer prevention while simulating a patient exam.