EVA 3.0 End of Life and Migration Update
This is an important notice for the users of EVA 3.0 –  the J500 phone model and EVA 3 Plus – the J530 phone model, using the first version of the EVA application.
It has been close to 7 years since we released the first EVA Application.
Amazon Web Services (AWS) has declared an End of Life of a critical service that is used as the infrastructure of the first EVA Application, you will no longer be able to use it.
MobileODT is launching a new EVA App for colposcopy screening and SANE, with a simplified workflow for improved user experience.
In order to ensure a smooth data software migration, your username will stay the same, and all of your exam records will be automatically transferred to the new EVA Portal.  You will be updated once the migration process is completed.
Please note that the migration process may take up to 5 business days, during which you may not be able to access the device or data. 
Should you not take action, MobileODT will automatically migrate your data.
The migration is about to take place in May 2023. 
Important note for J500 phone model users:
From May 15th 2023, MobileODT will no longer support the J500 due to the End of Life of the J500 phone, as declared by Samsung. We will no longer be liable for any data loss or service interruption with the continued use of this version. 
Please check your phone model, by performing the following steps:
Open the phone Settings
Tap on "About Phone"
Check what is the model number
Please make sure to back up your data:
If you are an opt-out user please export all your exams from the EVA device.
If you are an opt-in user, please sync all your exams from the EVA device.
Connect the device to WiFi and make sure that all your exams are synced. 
You will be able to access your data from the new Portal.
Upgrade to the EVA Pro Next Gen Digital Colposcope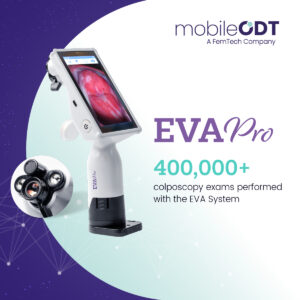 As a loyal customer of MobileODT, we would like to offer you the opportunity to upgrade to our next-generation EVA Pro digital colposcope with a built-in camera for superior image quality. Please contact your distributor or MobileODT to learn more.