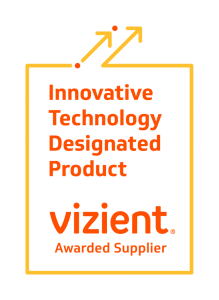 New York, NY – August 27, 2019 – MobileODT announces its EVA (Enhanced Visual Assessment) System has received an Innovative Technology contract from Vizient, Inc. – the largest member-driven health care performance improvement company in the country. The contract was based on the recommendation of the EVA System by hospital experts in the Endoscopic Instruments category who serve on one of Vizient's member-led councils.
The EVA System is an FDA-cleared smart mobile colposcope for the assessment and diagnosis of cervical cancer and for use in forensic examination by Sexual Assault Nurse Examiners. MobileODT's enhanced women's health visual assessment solution includes a secure information system that saves clinicians time and increases the information available to drive better clinical outcomes. It combines powerful algorithms and HIPAA-compliant data management with high-quality optics, imagery, and video capture, all optimized to help expand a clinician's ability to reach and care for their patients.
The EVA System allows healthcare providers to document cases, add annotations and filters directly to images, and collaborate remotely with peers or experts in real-time. The highly portable EVA System enables rapid capacity building for health systems and clinicians by enabling remote supervision and quality assurance for cervical cancer screening. It brings remote expert-level care to the point of care.
"We are delighted to receive this great honor from Vizient, and look forward to working with Vizient members to increase access to cervical cancer screening, colposcopy, general gynecology, and forensic exams through our mobile system and its telemedicine capabilities," says Ariel Beery, CEO of MobileODT.

"After a full review of the EVA System, Vizient's member council agreed this solution offers unique and incremental benefit over other products available on the market today, and recommended it for an innovative technology contract. We are pleased to award this new contract to MobileODT," said Debbie Archer, director of procurement and leader of the Vizient Innovative Technology program for suppliers.
About Vizient
Vizient represents a diverse membership that includes academic medical centers, pediatric facilities, community hospitals, integrated health delivery networks, and non-acute health care providers and represents approximately $100 billion in annual purchasing volume. Through its Innovative Technology Program, Vizient works with member-led councils and task forces to review potentially innovative products. If it is determined that a product is innovative, Vizient may award a contract outside of the competitive bid cycle.
About MobileODT
MobileODT helps clinicians utilize the power of AI on its portable medical devices to enhance women's health. MobileODT's EVA System combines advanced imaging, data and software applications, to expand access to quality care in 29 countries and across more than 60 US health systems. The EVA System's smart mobile colposcope is used by clinicians worldwide for colposcopy, general gynecology, tele-colposcopy, and forensic imaging. MobileODT is integrating its AI in approved markets to provide powerful clinical decision support to healthcare providers at the point-of-care.
Contact for Vizient Members
Matan Katz – matankatz@mobileodt.com