We are using the EVA System for quality testing; confirming we are providing an accurate diagnosis, examining the changes in the cervix between sessions, and ensuring we are properly treating women.
PETER K. THOMPSON, MD
FAITH IN PRACTICE (IN COLLABORATION WITH MD ANDERSON)

Simplify your clinical workflow by streamlining how you conduct, record, and review patient cases and gynecological examinations.
Capture
Achieve high-quality images and video with EVA's 16x optical magnification and auto-focus capabilities.
Document
Mark biopsy locations highlight, and add relevant notes for documentation, referral or case-sharing.
Collaborate
Securely share patient cases with colleagues or relevant organizations for assesment.
Educate
Empower patients, trainees and peers with collaborative image review and remote training.
Analyze
System administrators can track patient cases and user activities, ensuring clear follow-ups and re-training pathways.
TECH SPECS
EVA 3 Plus
From its 16x image magnification to the contact-less image capture, through the advanced cross-grid polarizers, the EVA 3 Plus connected colposcope is an FDA-Cleared device that has been designed to provide clinicians with superb medical-grade images to aid visualization and diagnosis.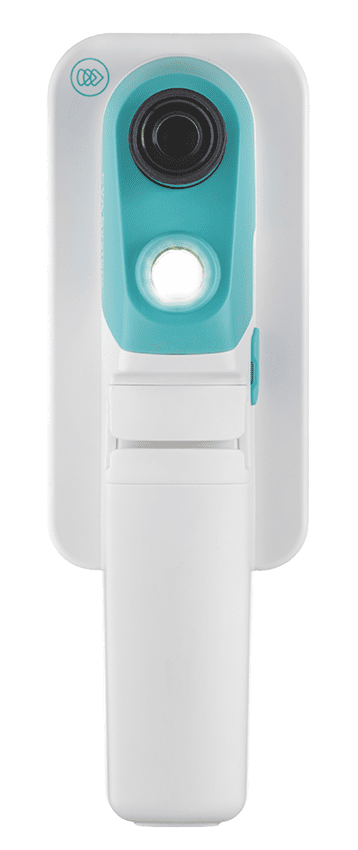 Operating System
Android 7
Cellular Model
Samsung Galaxy J5 PRO
Processor
1.6 GHz octa-core
Display
Super Amoled 720×1280 pixels
HD 5.2' (131.8 mm)
Camera
-CMOS sensor, 13 MP resolution
-Working Distance Magnification (250mm-400 mm)
-4.0X optical / 16X with digital zoom (at 225 mm)
Video
-FHD (1920×1080@30fps)
-Playing format: MP4
Connectivity
-Wi-Fi/ Bluetooth v4.1
-2G GSM, 3G WCDMA, 4G LTE FDD, 4G LTE TDD
Power
-Micro USB charger 5V DC
-Two batteries: 3000 mAh (cellular unit) 6500 mAh (system unit)
Illumination
-6000k 3W LED (3.6V)
-Wire-grid polarizer for glare reduction
Dimensions
-Colposcope (HxWxD) 24.39 cm x 8.1cm x 10.41 cm
-Packaging (HXWXD) 16cm x 29.4cm x 24.4cm
Weight
605 gr
SOLUTIONS
A solution for every need
At MobileODT, we recognize that a medical platform needs to be as flexible as its customers are unique. And that's a challenge we readily embrace. So whether you're a women's health provider working independently, or a hospital looking to optimize ROI and services, MobileODT has the solution to get you on your way.
Teleconsultation
 The EVA System connected device allows clinicians and health systems to expand care – and training – with live teleconsultation, connecting expert and non-expert providers independently of where they are located:
1. Offer advanced care and informed second opinion from experts in real time.
2. Train residence and less skilled clinicians
through live mentoring.
3. Expand colposcopy and general gynecology services inside and outside your network while improving patient satisfaction.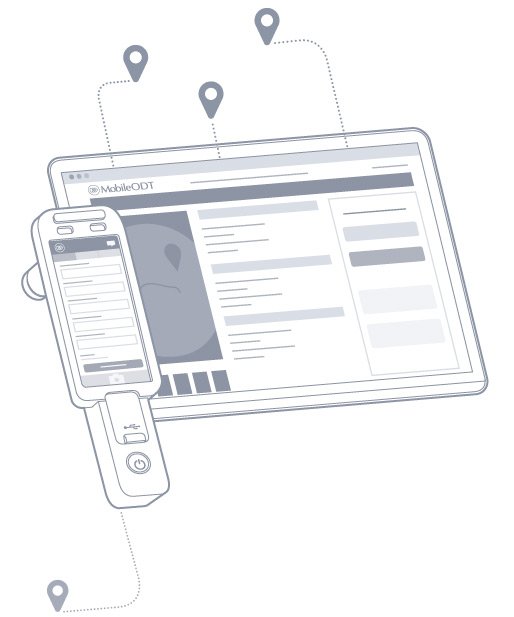 AI
Augmented Intelligence
MobileODT is committed to harnessing the most advanced technologies to build cutting-edge tools for healthcare providers, extending the capabilities of the EVA System to help them save more lives. Medical-grade Artificial Intelligence (AI) has tremendous promise to support healthcare providers better care for their patients. It can give patients the best possible diagnosis at the right time, enable the healthcare provider to determine the best next steps for that patient, and allow patients to find the resources to address the disease.
Looking to the future
We believe that healthcare providers deserve the most advanced, most powerful tools possible and that no healthcare provider should be restricted from providing her patient with the best possible diagnostic test due to infrastructure constraints or lack of available expertise.
Enhanced diagnostics
AI is not replacing the healthcare provider by any means. Medical-grade AI is primarily a powerful tool to extend the diagnostic power of laboratory tests. In the past, laboratory technicians were taught to identify patterns in what they saw microscopically and make decisions accordingly. Today, neural networks are taught to recognize patterns using tens of thousands of images and their associated 'ground truth' outcomes.  AI-empowered diagnostic tests will put advanced diagnostics within reach of every person on the planet with an accessible mobile phone, computing device, or internet connection.
For experts and non-experts alike
This use of AI for decision support is helpful for experts as well as non-experts conducting examinations. For expert healthcare providers conducting a diagnostic examination, AI can provide an automated second opinion. For non-experts, AI can enable the immediate examination of a patient when local expert opinion is limited and making diagnostic examinations accessible that may have previously been limited by infrastructure and resource availability.
EVA for colposcopy examinations
Use the EVA System for fast and simple colposcopy examinations.
EVA for sexual assault examinations
Use the EVA System for reliable forensic documentation and secure case-sharing.
EVA for gynecologic examinations
Use the EVA System as an aid for pelvic and gynecologic exams, streamlining visualization and documentation.