Cervical cancer results in over 311,000 annual deaths, making it the 4th most common cancer among women worldwide. As early detection can make a huge impact, the World Health Organization made a strategic decision to embark on a global 10-year plan to eliminate cervical cancer through effective vaccination, screening, and treatment.
In honor of Women's Health Week, we look at how technological innovation is helping national cervical cancer programs meet these ambitious goals.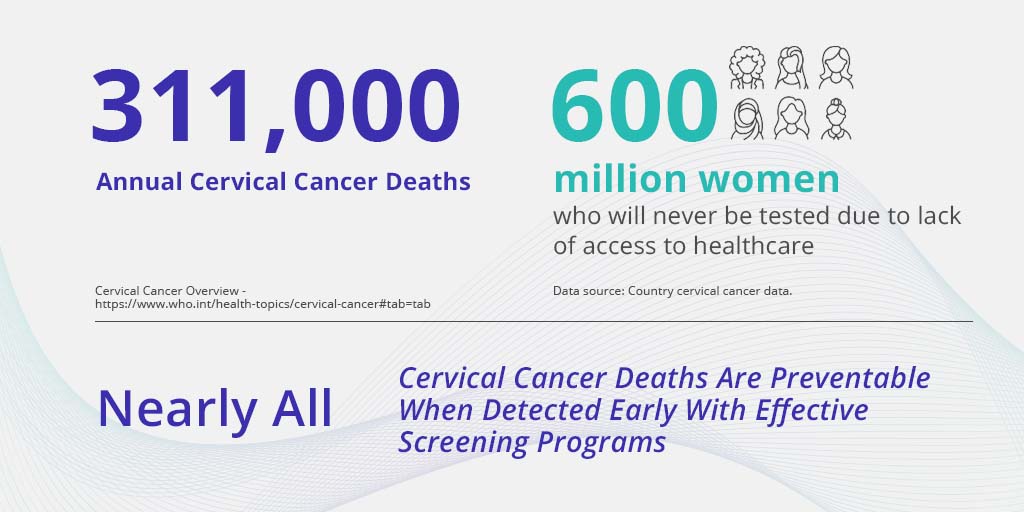 WHO Cervical Cancer Global Strategy
 Nearly 90% of cervical cancer deaths occur in low- and middle-income countries, where access to public health services is limited, with screening and treatment are not yet widely implemented. In an attempt to address this disparity, in August 2020, the World Health Assembly adopted the Global Strategy for Cervical Cancer elimination. 
The intention is to reduce the cervical cancer incidence rate to below four per 100,000 women. The strategy outlined three key 'pillars' for combating cervical cancer; vaccination, screening, and treatment. Each pillar was given an implementation target:
Vaccination: 90% of girls fully vaccinated with the HPV vaccine by the age of 15; 

Screening: 70% of women screened using a high-performance test by the age of 35, and again by the age of 45; 

Treatment: 90% of women with pre-cancer treated and 90% of women with invasive cancer managed. 
Meeting these targets requires a robust response at a national level. 
HPV Vaccination
HPV vaccination has been touted as the key to eradicating cervical cancer in our lifetime. However, while reducing the number of women susceptible to the HPV virus will bring a large improvement in cervical cancer rates, HPV vaccination is not without its own challenges.
During her plenary address at the 2018 IPVC conference in Sydney, Dr Nothemba Simelela, WHO Assistant Director-General for Family, Women, Children, and Adolescents, addressed the challenges of widespread HPV vaccination.
She outlined the need for robust cervical cancer screening programs to exist in tandem with HPV vaccination programs to provide coverage for women not eligible for vaccination programs. Even among women eligible to receive the vaccine, there still exists a significant portion of women at risk and room to improve the penetration rate for women outside of school-based programs.
These challenges are illustrated in the case of Rwanda,  the first low-income country to provide universal access to the HPV vaccine. The Rwandan HPV vaccination program began in 2011 with 6th-grade girls receiving the vaccination in elementary school. A wide-scale public awareness campaign preempted the introduction of the vaccination to inform the public and enlist their support. During the first year of the vaccination program, 93% of the target population received the vaccination.
However, despite the success of the vaccination program, the ICO/IARC Information Centre on HPV and Cancer reports that cervical cancer remains the most common cause of cancer death among women in Rwanda with 1366 women diagnosed with cervical cancer and 804 deaths annually. Despite having one of the most advanced HPV prevention programs in a low-resource setting, women are still dying from cervical cancer in Rwanda.
Screening – Making an impact on the ground
 Keeping with the WHO's 10-year plan requires national programs to embrace scalable methods of screening.  The Pap test that was traditionally used as the gold standard for cervical cancer screening, requires significant laboratory infrastructure that is unrealistic for most LMIC (low or middle-income countries.) HPV testing is growing in popularity as a form of primary screening.
However as HPV testing has only moderate specificity, a co-test is required to make HPV an effective method of screening. In many cases, visual inspection of the cervix (either colposcopy or VIA,) is used immediately after HPV screening positive. This adds an added burden to the healthcare system.
To provide a cost-effective screening system that does not tax the limited resources in LMICs, a new solution is required. AI (artificial intelligence) is improving healthcare outcomes in many fields with its ability to offer reliable, scalable solutions to previously insurmountable challenges. MobileODT, an Israeli-based digital health femtech company, is offering a new paradigm in cervical cancer screening enabling screening at scale, by harnessing the power of AI (artificial intelligence) and digital colposcopy.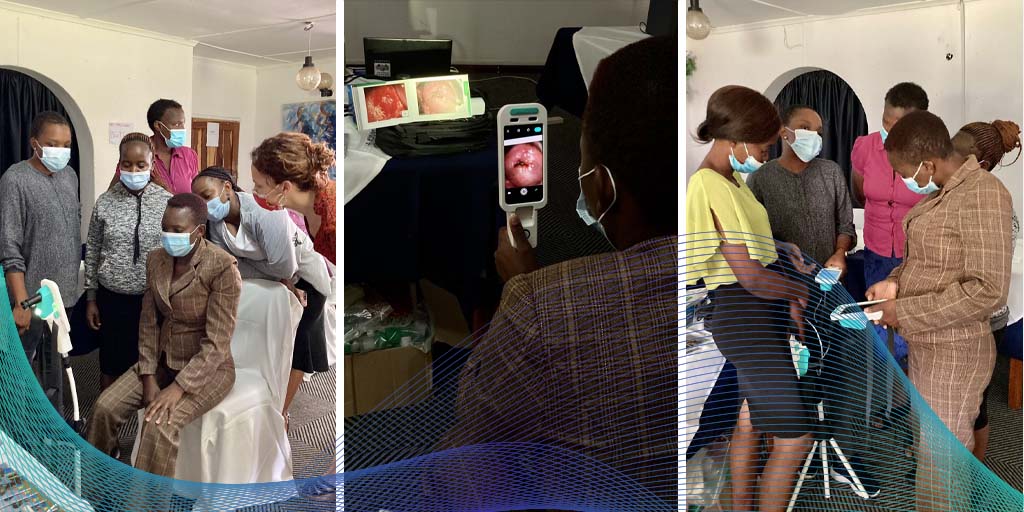 By harnessing the power of digital innovation, a national cervical cancer screening program can be easily implemented in any country. This plan rests on 3 pillars:
Increasing scalability through the use of AI
  Reducing treatment costs and the burden on the healthcare system

  Standardizing the quality of cervical cancer detection, allowing for use by any technician with an accuracy similar to experienced colposcopists.
Thanks to innovation in digital technology, the highest level of cervical screening is now available in any healthcare setting, anywhere in the world. MobileODT's EVA digital mobile colposcope provides a complete digital solution for cervical visualization. But simplifying visualizing the cervix is not enough to ensure a robust screening program. MobileODT has developed a groundbreaking artificial intelligence system to screen for cervical cancer based on the images captured with the EVA device. The VisualCheck AI application runs on the EVA System as a software add-on, offering enhanced cervical cancer screening with a level of accuracy similar to leading colposcopists.
The VisualCheck AI application is based on analysis of thousands of cervical images, validated by biopsy results and expert annotation. VisualCheck runs on the EVA Device and offers an immediate analysis of a cervical image, indicating whether it is likely to have signs of cancer or pre-cancer, with a level of accuracy similar to leading colposcopists.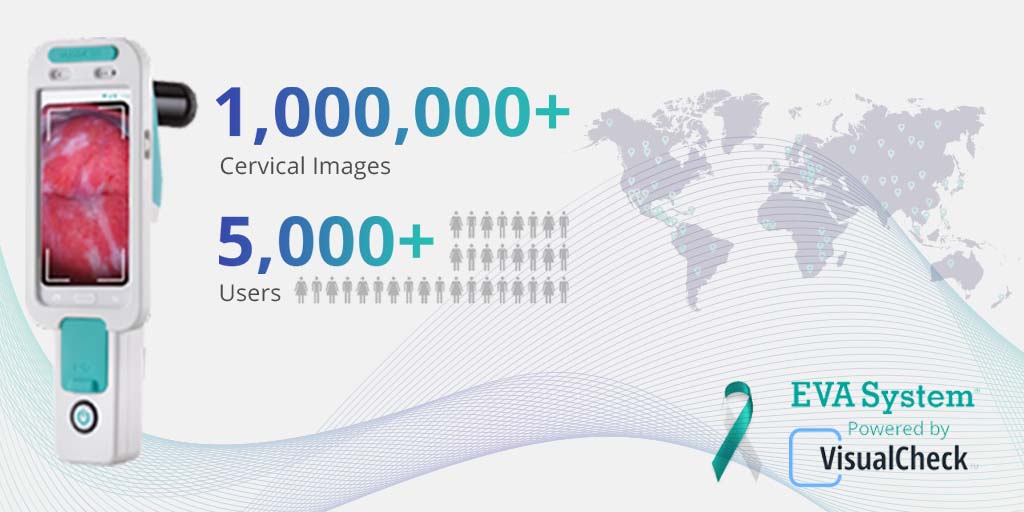 With the push of one button, a clinician at the point of care can receive an immediate indication of whether cervical dysplasia is likely to be present. No laboratories are needed. Any clinician with basic cervical examination skills can perform the analysis.
 How VisualCheck can be deployed in a National Cervical Cancer Screening Program
 The VisualCheck AI application runs on the EVA System as the perfect model to support the WHO's 10-year plan, ensuring the goal of 70% of the world's women tested for cervical cancer by 2030. By leveraging the unique benefits of AI technology for a large-scale national cervical cancer screening program, screening can be offered at an unprecedented scale, improved accuracy and with enhanced accessibility to healthcare.
The EVA System's digital platform offers numerous benefits for national screening programs:
Accurate screening can be performed at the point of care, with immediate results achieved in less than 60 sec, and potential immediate treatment. Result accuracy is similar to that of leading colposcopists, improving healthcare accessibility, especially in remote areas.

VisualCheck can be used as a stand-alone test in place of PAP or as an adjunct to PAP and HPV.

The EVA software acts as a full EMR (Electronic Medical Records) storing all patient information in the software from the initial visit including PAP and HPV test results, EVA images and physician annotations.
As the VisualCheck software is designed to be user-friendly, it makes the system accessible to non-expert clinicians. MobileODT works with local technicians to train them to use the MobileODT VisualCheck AI technology. They in turn train clinicians on the ground. 
MobileODT helps each country develop the most suitable national screening program for their healthcare ecosystem, including consultation with world-renowned KOLs with expertise in national screening programs to review all procedures and treatment protocols and provide insights to such a program.
 The impact of deploying VisualCheck is great. Mass screening can be performed in a short period of time with easy adoption by clinicians. The mobile nature of the device means that screening camps can be conducted in any area regardless of the local medical infrastructure. 
This reduces much of the loss to follow-up with "Screen and Treat" programs. The cost-effective system reduces overall screening and treatment costs.
The Dominican Republic – Case study
Visual Check AI technology is supporting a large-scale government cervical cancer screening project in the Dominican Republic. The project is currently run by the Dominican Republic Ministry of Health in cooperation with MobileODT. As part of the project, trained technicians travel to local clinics to perform cervical cancer screening. In the first months of the program, each clinician was able to screen up to 2,500 women. Over 18,000 women have already been screened with the goal of screening 50,000 in the coming months. 
Given the initial success of the project, it was decided to expand this program to cover another 50,000 women. These women are due to be screened over the next 6 months. VisualCheck, provides non-specialists with an AI clinical decision support tool, predicting how highly trained colposcopists would determine positive or negative cervical cancer diagnosis.
 With the relatively high cervical cancer rate among the Dominican Republic women population, early prevention can make a huge impact on women's lives. Furthermore, it can help the health system save significant funds that would have been otherwise directed to treatment.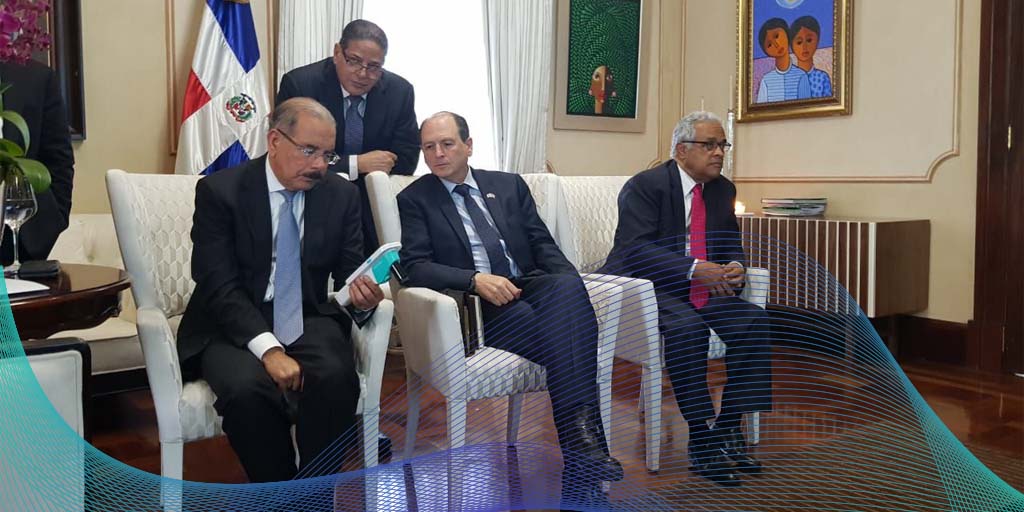 "Many cervical cancer cases happen due to a lack of timely follow-up" says Dr. Alfredo Levy, MD, OBGYN, one of the leading physicians involved in this project, "the ability to receive the results immediately at the point of care, is a complete game-changer. The EVA VisualCheck system is quick and easy to use, allowing us to screen more patients, and predict results with high accuracy" .
 India – Case study
MobileODT's latest innovation in cervical cancer screening, EVA VisualCheck AI cervical screening technology, is being used to support a national cervical screening project in India. This is the most comprehensive and largest cervical cancer screening program performed in India, to date. 
The project is being run by Karkinos Healthcare in strategic collaboration with GenWorks Health, MobileODT's exclusive distributor in India. The partnership is using HPV testing as primary screening and deploying the EVA System to perform cervical examinations as a secondary screening. 
The tests are being made available to all women between the ages of 30 and 65 years, across India with the aim to provide the services in every town in India.
Looking forward to the future
The WHO's initiation of a 10-year plan to eliminate cervical cancer is laudable and at the same time, poses many challenges. We at MobileODT are proud to be equipping clinicians and healthcare policymakers with the tools they need to make this vision a reality.