Gal Brenner from MobileODT Product Department shares her experience at the Yunnan screening camp:
Witnessing nearly 4,000 women receive cervical cancer screening for the first time in their lives was an inspiring experience. Working with a team that made that happen in only 6 days was thrilling. I was honored to be part of Yunnan Province screening brigade co-sponsored by United Charity for China's Health and the Gynecologic Cancers Research Foundation in July 2018.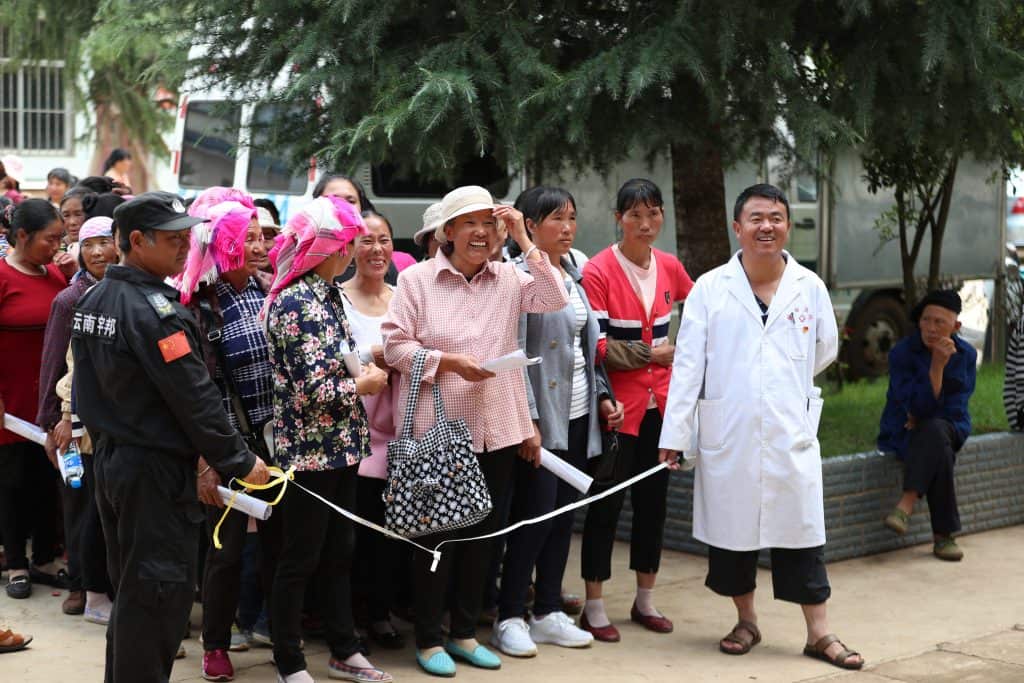 Cervical cancer screening at scale
1 in 4 women diagnosed with cervical cancer lives in China. The healthcare challenge of bringing cervical cancer screening to all the over 557 million Chinese women at risk of developing cervical cancer is vast. Today, only 20% of Chinese women have received any form of screening in their lifetimes (8 out of 10 women will go unscreened).
Scaling cervical cancer screening efforts in a cost-effective manner to address this challenge requires an innovative approach that works in all resource settings. Roberta Lipson, CEO of  United Family Hospitals, joined Dr. Andrew Goldstein from the Center for Vulvovaginal Disorders and the George Washington University School of Medicine to undertake an extremely ambitious project; a trial investigating the feasibility and effectiveness of HPV self-sampling followed by digital colposcopy in HPV positive women. All women with cervical dysplasia (pre-cancer) received treatment on the same day. This lifesaving prevention project aimed to reach 4,000 women in 6 days.
A self-administered HPV test has the potential to make cervical cancer screening available to many more women as it significantly reduces the need for experts and physicians to conduct primary screening in the HPV screening process.
Women attending the screening brigade received instruction on how to perform the self-sample in groups of 10 at a time. In terms of manpower, this saved time as it only required one attendant for each group of 10 women. Without the need for inserting a speculum, tests could be self-administered, leading to increased buy-in from communities due to the less invasive process as well as fewer consumables and time required for a standard HPV examination. In this way, we could screen almost 200 women per hour for HPV.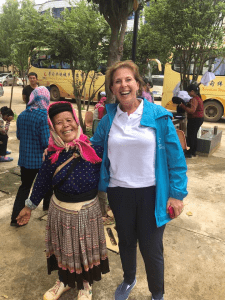 The completed swabs were processed on-site within 4 hours after taking the sample. This allowed almost all women testing positive for high-risk HPV receive a same-day call back for a digital colposcopy. Having worked with MobileODT in the past, Dr. Goldstein recommended that the EVA System colposcope was deployed as part of the screening brigade to visualize all women tested HPV+ and ensure that all women with dysplasia received treatment.
Reaching rural China
While many urban parts of China are fully developed, many millions of Chinese women live in rural or semi-rural areas with infrequent access to advanced medical facilities.  The screening brigade took place in villages in the mountainous Kunming Region of Yunnan Province. The isolated nature of the villages prevented the use of a traditional colposcope. The portable EVA System colposcope provided an alternative method of producing the high-quality visualization and images needed for documentation and follow-up care. Dr. Goldstein also trained local physicians on the screening and treatment process to conduct screening projects in the future without the need for expatriate support.  
Such a huge undertaking required a massive team of volunteers. Dr. Goldstein and Ms. Lipson, joined by their own family members, assisted assist in the registration and logistics with help from Chinese translators volunteering from the United Charity for China. In addition to cervical cancer screening, GE Healthcare's generous donation of necessary ultrasound equipment allowed for breast cancer screenings as well. Dr. Anhua Li led the breast cancer screening and detected 14 suspected breast cancer cases.
Almost all of the women received their first ever cervical cancer screening at the brigade.
Despite the language barrier, their smiles and warmth conveyed their appreciation. As importantly, the effort focused on training and mentorship of local healthcare providers to ensure sustainability over time.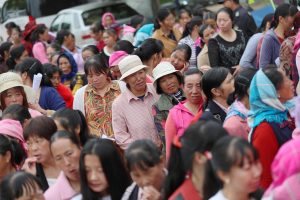 From the start of the day, women lined up traveling from all over the region to receive screenings. Most came from low socioeconomic backgrounds and from ethnic minority groups. Each woman underwent a short instructional talk explaining the importance of screening and what to expect. We hope the impact of this education will empower an entire population of women with a better understanding of their healthcare needs.
When the screening brigade came to a close, we had reached our goals:
3886 women were screened for HPV.
168 colposcopies were performed with the EVA System for women who tested positive for HPV and at high risk for development of cervical cancer.
More than 40 women received on-site treatment including cryotherapy and LEEP for precancerous lesions, in some cases in advanced stages.

A further 3 patients found to have advanced cancer were referred to the regional center in Kunming.
A victory for so many women
As a product manager for MobileODT, these are the moments we wait for and design our product for… For the dozens of women who were caught with precancerous lesions and who could be treated and saved… the 3 women who had cancerous lesions, that would have had their future stolen from them, but instead were able to return healthy to their families…. For the thousands of women who were able to rest easy knowing they had been screened…. And for the potentially millions of women who stand to benefit from the findings of the trial that self-sample HPV and screening with the EVA System can be done, and leads to many lives saved.