EVA for Teleconsultation
Teleconsultation opens new horizons for women's health clinicians around the world by digitally linking clinicians together in real-time.
Learn how to use telconsultation for colposcopy and gynecological procedures, check our case studies, view the latest medical research and understand how reimbursement works for teleconsultation in the guide below.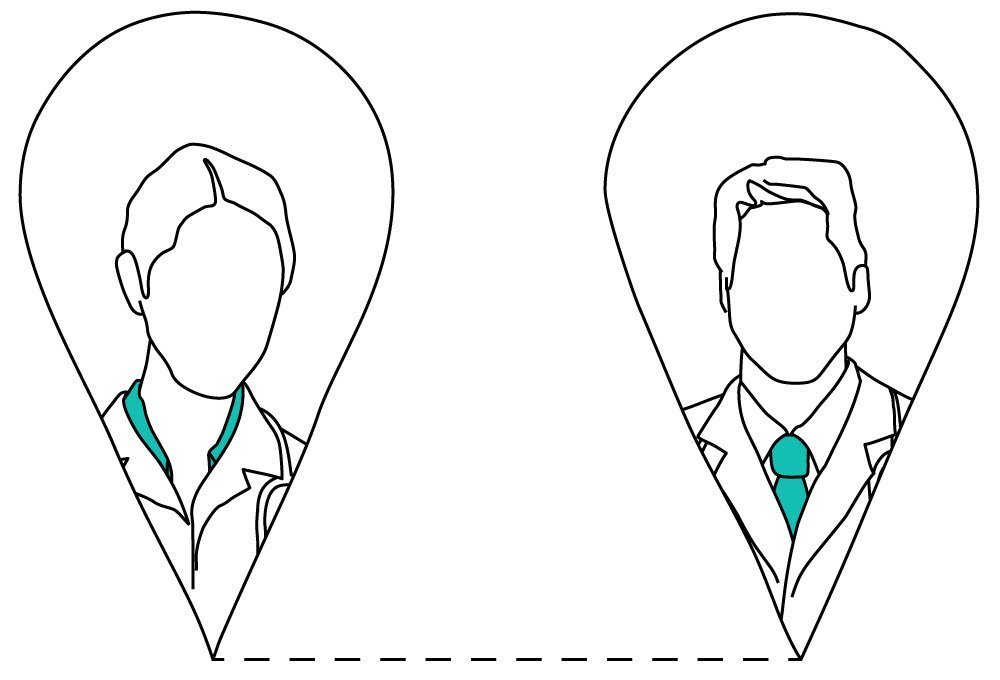 The EVA System Teleconsultation connects a clinician at the point of care to a colleague in another location through video link-up. The remote colleague can supervise the patient examination in real time, directing the clinician at the point of care throughout the consultation. More than just a tool to connect clinicians, EVA allows for a new model and opportunities for more and better women's health services and training in colposcopy and other gynecologic examinations.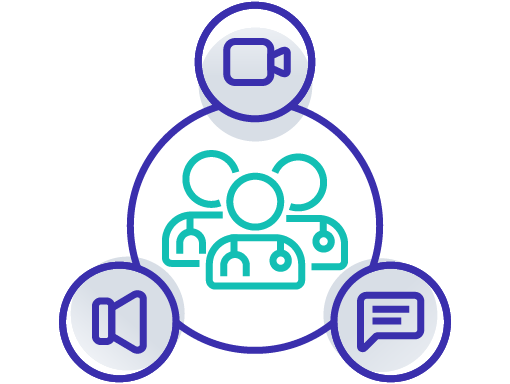 Real-Time Consultation
Connect through three direct channels; video, audio and remote messaging for clear communication and examination of the patient at the point of care.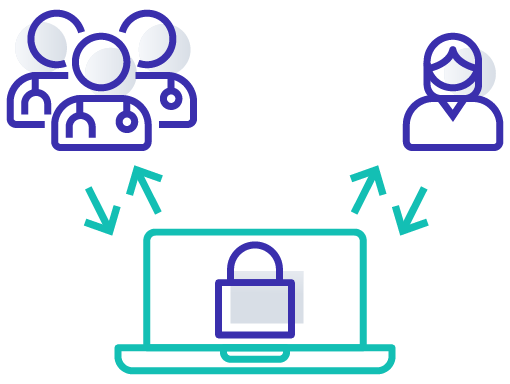 Store-and-forward
Securely transmit patient medical data using the HIPAA and GDPR compliant EVA Portal. Easily share cases with colleagues. Increase patient satisfaction and understanding by sharing data directly with them.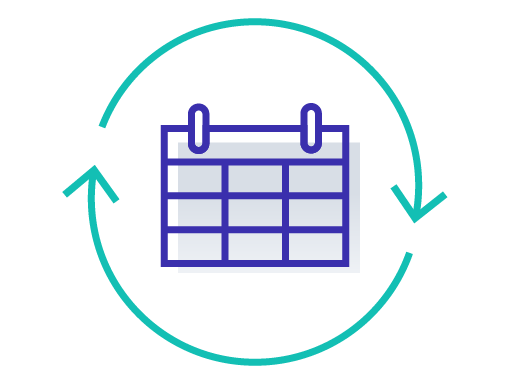 Synchronized Scheduling
Schedule provider-to-provider consultation directly from the EVA System. Engage the calendar plugin to allow auto scheduling from the teleconsultation tool to your preferred online calendar.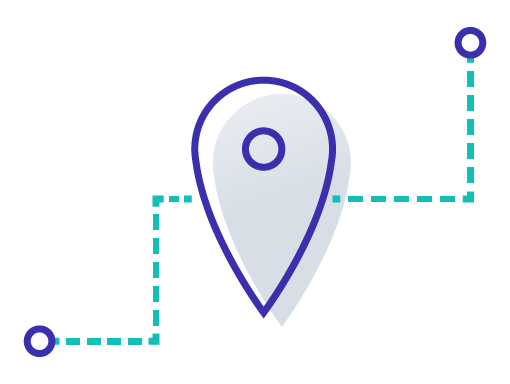 Appointment Log
Track each case with a thorough auditable trail of each encounter, including time and length of consultation to streamline audit preparedness.
Teleconsultation guide for women's health
How does it work step-by-step?

The patient arrives for examination.

The remote expert is notified that teleconsultation is needed.
A connection is initiated between the clinician at the point of care on the EVA device and the remote expert on their personal computer, laptop, tablet or phone.

The examination begins. The remote expert sees the video or images being captured by the EVA device and can offer guidance during the exam. Both clinicians can annotate the live video feed to show the location of a biopsy or other abnormalities.

The EVA portal records all images for either clinician to access in the future.
Benefits of teleconsultation
Teleconsultation optimizes resource allocation by connecting clinicians at the point of care with experts in remote locations to provide advanced care. The process benefits patients, clinicians, and healthcare systems alike, creating an enhanced healthcare experience.
For patients
Teleconsultation brings expert care to patients doorsteps. Reducing the hidden burden of healthcare (travel time, time off work, childcare needs etc,) teleconsultation makes it easier for patients to receive the care that they need and reduce loss to follow up.
Less travel time to appointments
Immediate advanced care
Reduced loss to follow up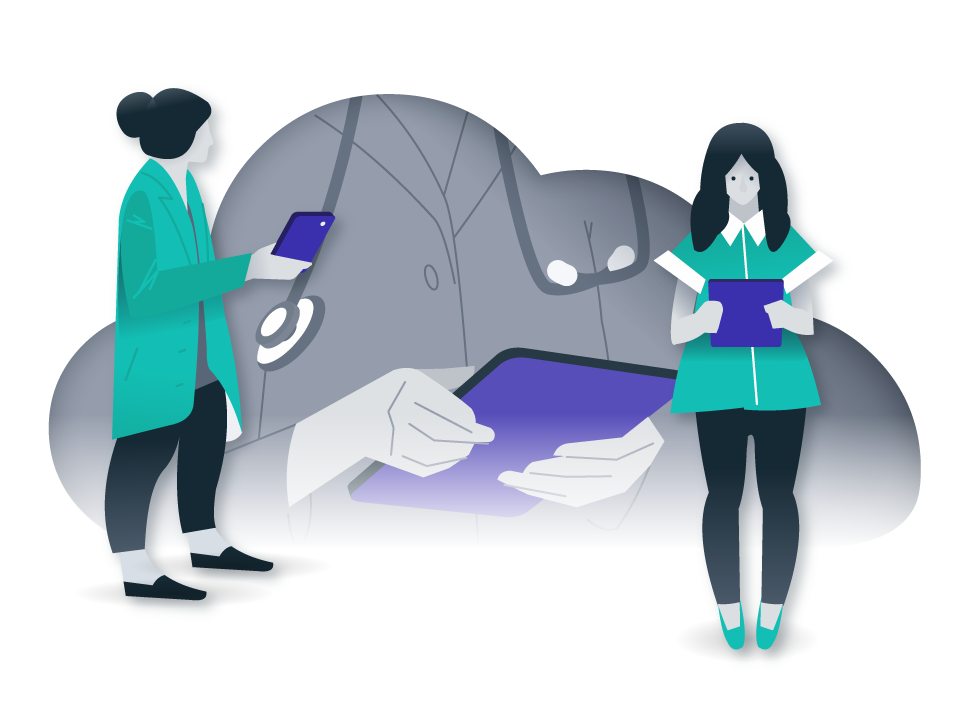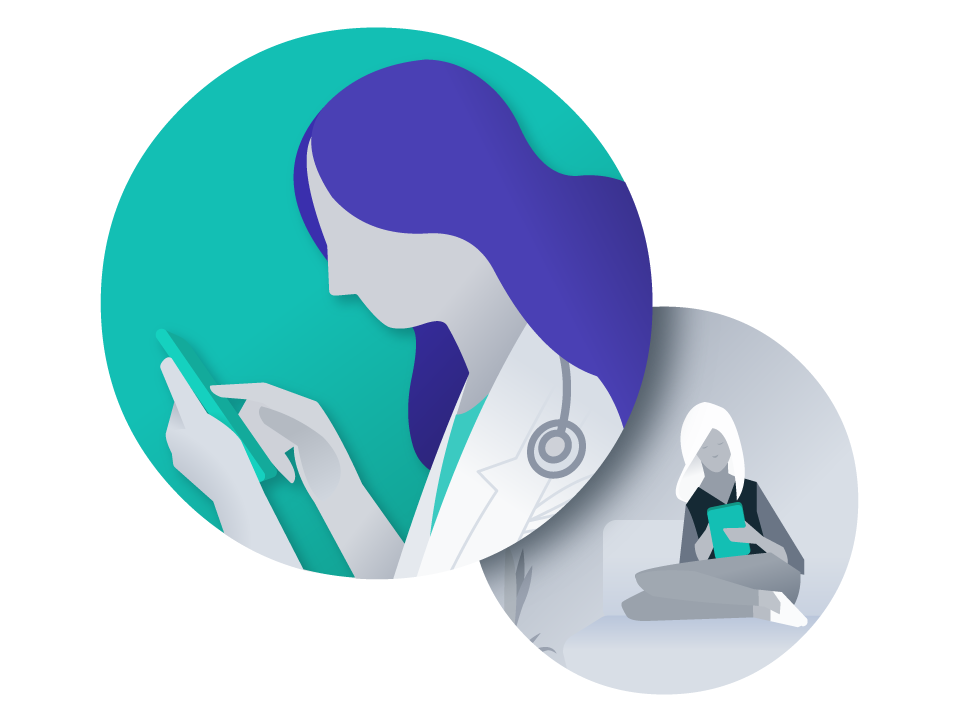 For clinicians
Telconsultation allows primary care and other clinicians to provide advanced care without sending patients to another practice or clinic. Using teleconsultation, clinicians can receive an immediate second opinion, benefit from remote mentorship, and extend the services offered.
Offer advanced care in own practice
Remote mentorship
Immediate second opinion
For healthcare networks
Teleconsultation allows healthcare networks to maximize their human resources. Extend expert care to multiple locations with remote specialists providing consultation via the EVA System. Teleconsultation helps improve patient satisfaction by reducing travel time to advanced care appointments. Expand training programs using teleconsultation to provide remote mentorship.
Maximize resources
Extend training programs
Increased patient satisfaction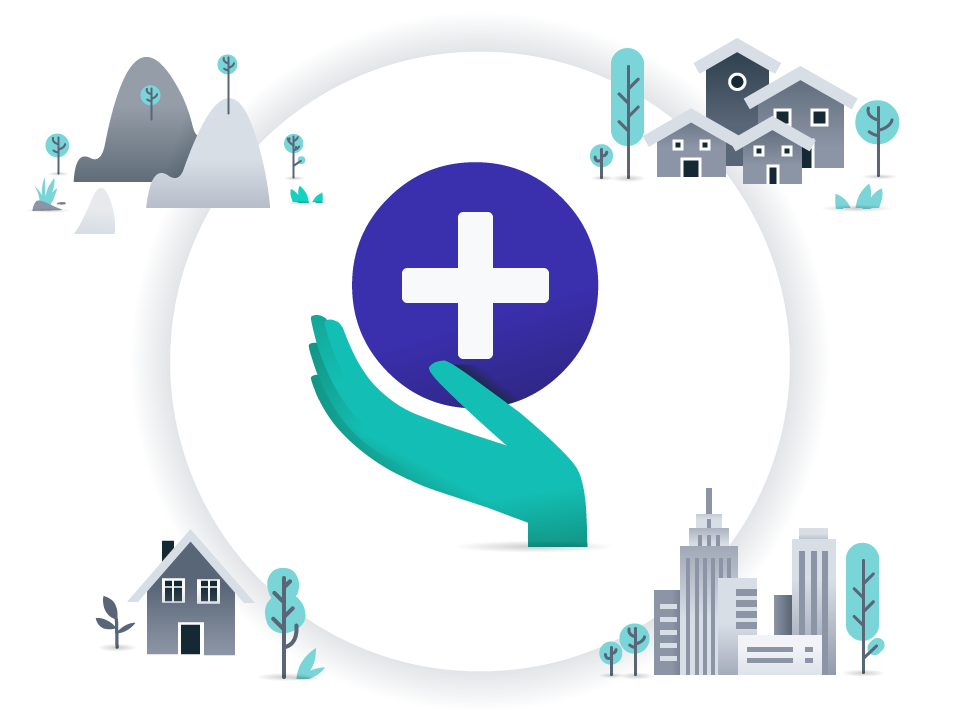 Teleconsultation specialties in women's health
TeleCOLPO
In the United States, colposcopy plays an essential role in cervical cancer screening. However, the country significantly lacks colposcopy services. The approximately 40,000 clinicians that offer colposcopy do not suffice in meeting the current need in the United States today. Remote colposcopy through teleconsultation and the EVA System TeleCOLPO is the answer.
TeleCOLPO extends services
Many healthcare systems have turned to primary care clinicians to extend colposcopy services. Yet the training requirements can be challenging. To receive ASCCP accreditation to provide the procedure in the US, any trainee colposcopist must conduct at least 25 supervised procedures and see a range of disease levels uncommon in the general population. This places a considerable burden on the healthcare network.
TeleCOLPO facilitates remote mentorship
Teleconsultation allows for remote mentorship of trainee colposcopy providers, enabling expert colposcopists to act as mentors for new trainees without either the trainee or the expert needing to relocate for the required supervision.
Teleconsultation for VIA
In healthcare systems where VIA (Visual Inspection with Acetic Acid) is the standard, teleconsultation allows healthcare providers to offer a higher level of screening. Rural or remote locations lacking doctors and advanced clinicians significantly benefit from expert oversight and guidance for more complex procedures. Teleconsultancy enables expert clinicians, more often located in urban centers, to extend the reach of their expertise.
Any trainee colposcopist must conduct at least 25 supervised procedures
EVA COLPO
Incorporating an FDA cleared, CE marketed, mobile colposcope, the EVA COLPO system enables clinicians to capture images, annotate observations and biopsy locations. Lightweight and portable, EVA COLPO goes beyond the bounds of traditional colposcopes. Its user-friendly interface enables easy adoption by new providers.
Telecolposcopy: Clinical evidence
Application of a Telecolposcopy Program in Rural Settings
Hitt. WC, Low. GM, Lynch. CE, Gauss. CH, Magann. EF, Lowery.CL, and Hari Eswaran. Telemedicine and e-Health Vol. 22, No. 10, 2016
This 15-month long study assessed the sustainability of and patient satisfaction with telecolposcopy. 940 patients were evaluated in eight local clinics. Descriptive data provided included patients' access to care based on travel time and transportation costs. The study found telecolposcopy to be sustainable in a statewide program with patients willing to participate. The telecolposcopy program reduced travel time and costs associated with face to face consultations.
Telemedical Cervical Cancer Screening to Bridge Medicaid Service Care Gap for Rural Women
Wilbur C. Hitt, MD, FACOG, Gordon Low, MSN, APN, Tommy Mac Bird, PhD, and Rachel Ott, BA
This study assessed colposcopies performed using teleconsultation at four clinics over 6 months in Arkansas. The program was found to be comparable in terms of positive predictive value and sensitivity regarding colposcopic impression. Patient satisfaction with the experience was above 90%. When offered the choice between colposcopy via teleconsultation or traveling to a central location, nearly all patients chose telecolposcopy.
Application of a Telecolposcopy Program in Rural Settings
Hitt. WC, Low. GM, Lynch. CE, Gauss. CH, Magann. EF, Lowery.CL, and Hari Eswaran. Telemedicine and e-Health Vol. 22, No. 10, 2016
This 15-month long study assessed the sustainability of and patient satisfaction with telecolposcopy. 940 patients were evaluated in eight local clinics. Descriptive data provided included patients' access to care based on travel time and transportation costs. The study found telecolposcopy to be sustainable in a statewide program with patients willing to participate. The telecolposcopy program reduced travel time and costs associated with face to face consultations.
TeleSANE
Teleconsultation in Sexual Assault Examinations
Teleconsultation provides a sustainable, cost-effective solution for hospitals and healthcare centers that wish to provide their communities with high-quality SANE services without having a 24/7 physical  SANE on-site.
TeleSANE puts a SANE in every ER
For those survivors brave enough to come forward and seek prosecution against their attackers, the collection of forensic evidence proves an essential part of their efforts to get justice. The presence of Sexual Assault Nurse Examiners (SANE) and the availability of forensic exams for sexual assault survivors improves the progression of their cases through the court system.
Many hospitals cannot feasibly  train and maintain a specialist in SANE service, either due to budgetary constraints or the infrequency of sexual assault case assessments.  Some hospitals resolve this issue with a small team of SANEs that provide coverage for multiple hospitals. In urban settings with hospitals within reasonable traveling distance of each other, this is a workable plan. However, in rural or less populated areas, sharing SANE services between healthcare centers is not possible.
TeleSANE ensures standards
TeleSANE links an expert SANE in a remote location with a general clinician at the point of care. The SANE can direct the exam, giving input on evidence collection, treatment, and patient questioning. This ensures that the exam is conducted at both a high level of medical competence, and fulfills all the requirements for a legally sound collection of evidence.
TeleSANE reduces survivor burden
Providing SANE services via teleconsultation benefits patients considerably. Traveling a long distance to receive the necessary SANE exam can exacerbate the psychological trauma of surviving sexual assault and at times deter reporting. By offering expert SANE services via teleconsultation in local hospitals, sexual assault survivors have their best chance at justice in the easiest possible manner.
Only about 10% of U.S hospitals have a forensic nurse examiner available on site
EVA SANE
Combining the capabilities of a video colposcope and a digital camera to enable full body and external body cavity image and video capture, EVA SANE is a complete solution for sexual assault forensics. EVA SANE enables a fully secure chain of custody through the protected online portal allowing nurses to share evidence  directly with law enforcement without requiring any image download.
TeleSANE: Clinical evidence
Perceptions of caregivers and adolescents of the use of telemedicine for the child sexual abuse examination
Stavas.N, Shead. J, Keddem. S, Wood.J,  Orjid.W, Cullen.C and Philip Scribano Child Abuse & Neglect, Volume 85, November 2018
In this exploration of caregiver and adolescent perspectives of the use of telemedicine for child sexual abuse examination, semi-structured interviews were conducted via telemedicine with 17 caregivers and 10 adolescents following a sexual assault examination. The study found an overwhelmingly positive response to telemedicine regardless of the severity of sexual abuse or prior experience with technology. Receiving a clear explanation of the technology from the medical team helped patients feel comfortable with the process.
Using Telemedicine to Improve the Care Delivered to Sexually Abused Children in Rural, Underserved Hospitals
Kristen J. MacLeod, James P. Marcin, Cathy Boyle, Sheridan Miyamoto, Robert J. Dimand, Kristen K. Rogers, Pediatrics January 2009, VOLUME 123 / ISSUE 1
Child abuse experts from a university children's hospital provided 24/7 telemedicine consultations to clinicians in two rural underserved hospitals in this study. Videoconferencing assisted in the examination and interpretation of findings during live exams. Data from 42 live teleconsultations was analyzed. The use of telemedicine resulted in a significant change (and improvement) of methods of examination and evidence collection in the rural centers.
TeleGYN
The field of gynecology is a broad area of practice, spanning the various patients' needs throughout a women's lifespan through adolescence to childbearing and menopause later in life. Like all healthcare professionals, OBGYNs seek to provide their patients with the latest medical innovations and treatment options in a cost-effective manner. Leveraging the power of teleconsultation for gynecologic services, TeleGYN with the EVA System allows OBGYNs to extend their services. 
TeleGYN reaches underserved populations
Women face significant barriers to receiving healthcare, even in high resource settings. Almost half of the 3,143 counties in the US lack a single practicing OBGYN. This leaves more than 10 million women (8.2% of all US women) without access to critical gynecology services.  
Even when women do live in an area that has some form of OBGYN provision, the distance traveled to access those services can have a profound impact on health outcomes. Loss to follow up is proven to be exacerbated by the distance traveled to reach healthcare services.  Women's health providers around the country prioritize providing reliable local OBGYN services. TeleGYN with the EVA System offering gynecologic services via teleconsultation is the answer. 
TeleGYN brings advanced care to local clinics
Teleconsultation with the EVA System offers a sustainable solution to bringing quality OBGYN services to women in underserved areas and communities. By connecting local clinicians at the point of care with remote experts, patients receive the care they need, when they need it.
TeleGYN extends specialist services
For primary care and other non-OBGYN clinicians, the EVA TeleGYN allows them to offer gynecologically related care with the confidence that their diagnosis and treatment plan is overseen by a specialist. The areas of consultation and questions are broad in a primary practice- and can be related to infections, pain, fertility, pregnancy, menopause, and more.
TeleGYN gives an immediate second opinion
For qualified OBGYNs, the EVA TeleGYN service enables a second opinion, even during the patient examination. Receiving additional input from colleagues offers patients an improved service. Without having to attend a second consultation with an unfamiliar physician, patients receive a complete consultation in one appointment.
Ten million American women don't have a single practicing OB-GYN in their county