WEBINAR: Testimony and documentation in forensic exams – what your photos say or don't say in the courtroom
During the forensic exam, SANEs take the utmost care to provide the best possible care and evidence collection for the survivors they work with. They say a picture is worth a thousand words, but what do your forensic photos say in the courtroom?
Guest speakers Nancy Harris, NP, NYSANE, SANE-A, SANE-P and Alaina M. Finan, former Bureau Chief of the Special Victims' Unit and ADA for the Rensselaer County District Attorney's Office, Alaina M. Finan illustrate basic guidelines for providing testimony and best practices for documenting and capturing forensic images in the latest installment of our SANE webinar series.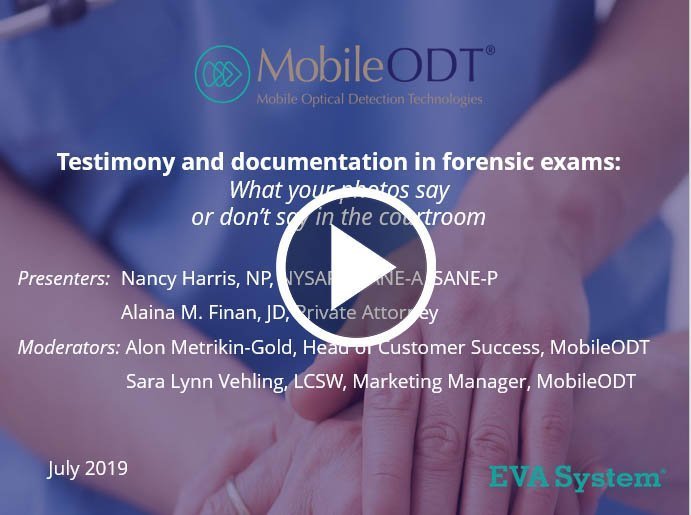 Fill in the form to watch now!
Gain knowledge in:
Basic rules for providing testimony
Best practices for documenting forensic photos
How to prepare to describe your photos for testimony
How the features of the EVA System for SANE can enhance your practice
Nancy Harris began her career in nursing nearly 40 years ago during which she has worked in pediatrics, the neonatal ICU, and emergency services. As an emergency department nurse at Samaritan Hospital in Troy, NY, she served as coordinator for the hospital's Sexual Assault Forensic Examiner Program. In addition, Nancy has completed several sexual assault forensic nurse examiner and pediatric trainings. In 2009, Nancy earned her certification as an adult nurse practitioner from Sage College in Albany, NY. Nancy currently serves as manager for St. Peter's Health Partners Sexual Assault Forensic Examiner Program. During her career she has performed close to 1,000 sexual assault forensic exams.
Alaina M. Finan graduated from Albany Law School in 2012 and was admitted to practice law in New York State in January 2013. She started her legal career by representing victims of domestic violence in Family Court proceedings. Alaina then went to work as an Assistant District Attorney for the Rensselaer County District Attorney's Office and later became Bureau Chief of the Special Victims' Unit. During her tenure as a prosecutor, she primarily prosecuted domestic violence and sex crimes. Currently, Alaina is working in private practice and for Schenectady County representing individuals who are indigent and can't afford an attorney with a primary focus in criminal law.