WEBINAR: Teen Sex Trafficking – Recognizing the signs and creating a safe place to seek help in healthcare settings
The average age of a victim's entrance into sex trafficking is between 12 – 14 years old. Teens are especially vulnerable to traffickers and may not even realize that they are being victimized.
So how can healthcare professionals recognize the signs of sex trafficking and create a safe space for disclosure?
Watch on demand MobileODT and Evidentia Publishing's latest webinar to explore the developmental and social factors that contribute to vulnerability factors for adolescents and learn how to integrate a trauma informed approach to working with teens in the forensic healthcare setting.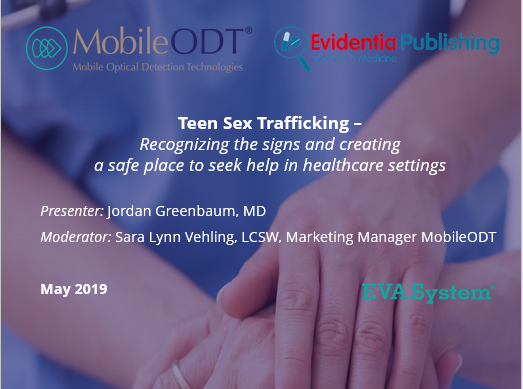 Webinar participants will gain knowledge in:
How to define teen sex trafficking
Explore developmental and social factors that contribute to vulnerabilities factor for adolescents
How to integrate a trauma informed approach to working with teens in a healthcare setting
Techniques in forensic medical documentation that can help a victim when s/he is finally ready to come forward.
Conducted by Jordan Greenbaum, MD
Jordan Greenbaum, MD is a child abuse physician who received her degree from Yale School of Medicine. She is the medical director of the Global Health and Well-being Initiative with the International Centre for Missing and Exploited Children and the medical director of the Institute on Healthcare and Human Trafficking at the Stephanie Blank Center for Safe and Healthy Children at Children's Healthcare of Atlanta. She co-chairs the Education/Training committee for HEAL Trafficking, an organization of medical professionals working on human trafficking issues. Dr. Greenbaum has served on national committees and work groups regarding human trafficking and has testified for Congressional committees. Dr. Greenbaum provides local, national and international training on child trafficking and exploitation.
Fill in the Form to Watch Now!