WEBINAR: Overview of forensic non-fatal strangulation exam
The signs and symptoms of strangulation can be easily overlooked. Bruises can easily hide behind the eyes, ears, and internal organs of the body. Accurate assessment of strangulation is not only critical for being able to successfully bring forward a criminal case, but it can also be a life or death call.
In this webinar, MobileODT and leading SANE expert Diana Faugno, MSN, RN, CPN, SANE-A, SANE-P, FAAFS, DF-IAFN, DF-AFN will guide you through commonly missed signs and symptoms of strangulation and the best practices for how to address this in the forensic exam.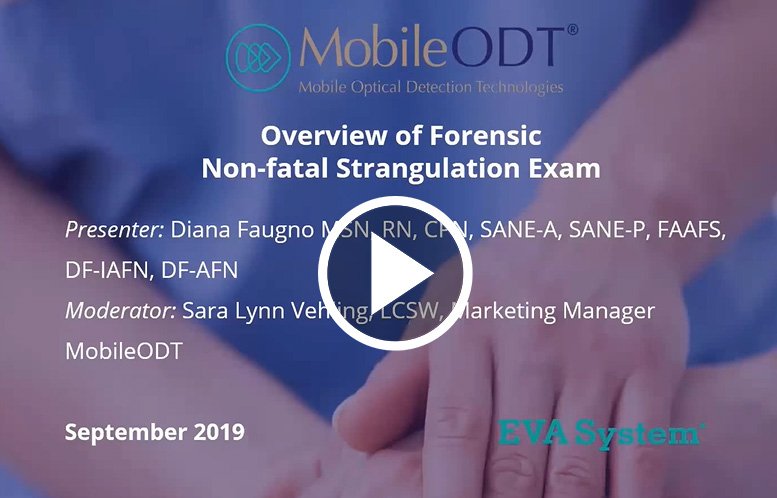 Webinar participants will gain knowledge in:
Recognizing the visible symptoms and signs of strangulation and how to document them
Understand the physics of strangulation – how much pressure is needed to occlude the jugular and carotid artery?
Best practices for improving treatment and care provided to strangulation patients
Review case examples
Conducted by Diana Faugno MSN, RN, CPN, SANE-A, SANE-P, FAAFS, DF-IAFN, DF-AFN
Diana Faugno graduated with a degree in Nursing from the University of North Dakota in 1973 and she received her Master's in Nursing from the University of Phoenix.
Diana is the President of the Academy of Forensic Nursing and a Board Member of EVAWI. She is a fellow in the American Academy of Forensic Science, as well as a Distinguished Fellow in the International Association of Forensic Nurses.
She has made numerous presentations to Sexual Assault Response Teams across the country as well as scientific community assemblies such as the American Academy of Science, EVAWI Conference. Diana provides training across the county to assist teams in the development of staff on topics using curriculum and educational standards on various topics.
Fill in the Form to Watch Now!