RESOURCES
WEBINAR:

Tips and tricks
A guide for mastering and teaching colposcopy 
Watch our webinar on demand with Dr. Jennfier Spohn for a practical session offering her 'tips and tricks' for practicing colposcopy and teaching others to perform the exam. With practical suggestions and an interactive question and answer session, this webinar is essential viewing for both novice and experienced colposcopists.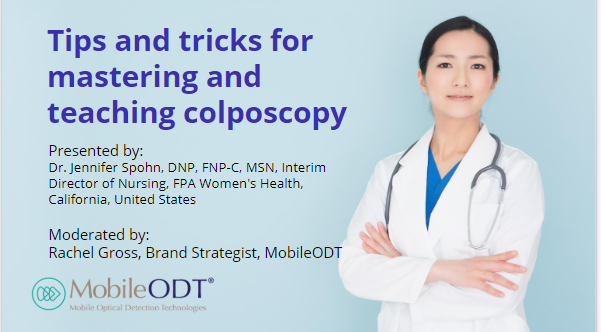 Webinar participants will:
Practical suggestions for mastering colposcopy
Quick fixes to common colposcopy challenges
Best practice for colposcopy proctors and mentors
How to use teleconsultation with the EVA System to provide remote proctorship
Led by Jennifer Spohn, DNP, FNP-C, MSN
Dr. Jennifer Spohn has worked in the field of nursing and nursing education for over 10 years. She obtained a Bachelors of Science in Nursing from California State University, Bakersfield in 2009 and a Masters of Science in Nursing and Family Nurse Practitioner certificate from California State University, Dominguez Hills in 2013. Dr. Spohn completed her postgraduate doctorate degree in nursing from Brandman University of Irvine in 2016.
Dr. Spohn currently works for Family Planning Associates Women's Health as the Director of Nursing and as a Family Nurse Practitioner and is a part-time professor for graduate students at California State University, Dominguez Hills. She has published studies focused on nursing students, specifically aimed at increasing their retention rates within nursing programs. Currently, she is studying the use of tele-colposcopy to train Advanced Practice Providers in the art of colposcopy.
Fill in the Form to Watch Now!