Gynecologic care for HIV+ women
Join Dr. Kofi Effah, MD, from the Battor Cervical Cancer Screening Center in Ghana as he shares his experience working with HIV+ women.
HIV infection continues to pose a serious healthcare challenge worldwide.  While antiretroviral drugs have significantly reduced the number of deaths directly caused by HIV infection, other related complications are taking a toll.
HIV+ women are 5 times more likely to die from cervical cancer. Educating women about the healthcare implications of their HIV status is an important step in ensuring successful treatment.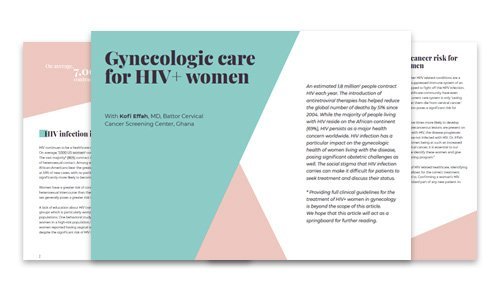 In this guide you will learn:
Common gynecologic issues facing HIV+ women
The obstetric risk posed by HIV infection
How HIV infection impacts cervical cancer incidence
Why HPV testing is less effective in an HIV+ population
How to address HIV status with patients
"Most of the HIV positive women will be positive for high risk HPV. In one study carried out at the Gynaecology Clinic in Battor, over 70% of HIV positive women had high risk HPV."
MobileODT Women's Health Special Populations Project
MobileODT has the honor of working with women's health clinicians around the world. Increasing immigration and shifts in social norms have led many healthcare providers to interact with patients from unfamiliar backgrounds with unfamiliar considerations.
Our Special Populations Project taps into the collective knowledge within the network of EVA System users that spans 42 countries, to give other clinicians an insider's view on certain special populations.
These guides are intended to start the conversation and to give clinicians an initial sense of the issues involved. Official protocols and local guidelines should be adhered to in every case.