Female Genital Mutilation (FGM)
Join Dr. Jean Kagia, consultant OBGYN at the Upper Hill Medical Centre in Nairobi, Kenya, who estimates that 30% of her patients have experienced FGM, as she shares her personal experience working with this population. 
More than 200 million women and girls are victims of female genital mutilation (FGM) around the globe. The practice of female genital mutilation is most common in western, eastern, and north-eastern regions of Africa and some Asian and Middle Eastern countries. 
In light of a disturbing increase in the number of cases found in the USA, UK, and other western countries, it is important for women's health practitioners to understand the healthcare repercussions of FGM.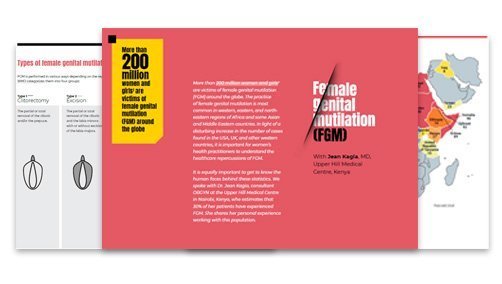 In this guide you will learn:
Why female genital mutilation is practiced
Types of female genital mutilation
Immediate health risks of FGM
Obstetric complications resulting from FGM
Treatment for FGM
"Approach survivors with compassion and understanding. Remember that this was 'normal' in the cultures they come from."
MobileODT Women's Health Special Populations Project
MobileODT has the honor of working with women's health clinicians around the world. Increasing immigration and shifts in social norms have led many healthcare providers to interact with patients from unfamiliar backgrounds with unfamiliar considerations.
Our Special Populations Project taps into the collective knowledge within the network of EVA System users that spans 42 countries to give other clinicians an insider's view on certain special populations.
These guides are intended to start the conversation and to give clinicians an initial sense of the issues involved. Official protocols and local guidelines should be adhered to in every case.