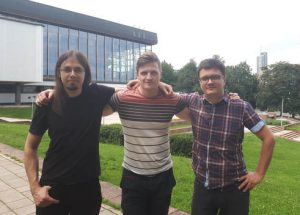 (August 2, 2017) Today, MobileODT announced the completion of the Intel & MobileODT Cervical Cancer Screening Kaggle Competition to develop a winning algorithm that will be used with the EVA (Enhanced Visual Assessment) System. The competition brought together over 1,067 participants and 848 teams of developers, data scientists, and students from around the world and challenged "Kagglers" to develop an algorithm that accurately identifies a woman's cervix type based on images. The identification can help prevent ineffectual treatments and allow health care providers to offer proper referrals for cases requiring more advanced treatment.
Using images taken by MobileODT's EVA System, and classified by an expert physician, Professor Albert Singer, Kaggle competition participants competed to write the most accurate algorithm possible to detect cervix type and help guide treatment.
The first place winners (pictured) were a team of three: Ignas Namajunas, Jonas Bialopetravičius, and Darius Barušauskas from Lithuania who will share the winning prize of $50,000. They joined the program because they "saw it as an opportunity to solve an important problem that can potentially have a lot of impact."
The second place winner, Indrayana Rustandi, from New York City knew very little about cervical cancer but understood that "Artificial Intelligence (AI) definitely has potential to help healthcare. In particular, AI can definitely help in finding useful patterns in healthcare applications that might be hard to detect by humans."
The third place winner was a team that included Gilberto Titericz Jr. from San Francisco Russ Wolfinger from Cary, North Carolina, Xulei Yang from Singapore and Joseph Chui from Philadelphia who received $10,000 in prize money. Luis Andre Dutra E Silva from Brazil won the special Intel Tools Usage prize of $20,000.
The winning algorithms will be optimized and tested internally by MobileODT, and then integrated into the EVA System so that they may be used by healthcare providers worldwide to detect cervix type and make real-time determinations on treatment. Namajunas and his team members see the potential of their winning algorithm in hard to reach areas of the world and feel that AI can contribute to the future of healthcare, "in less developed countries or in places where there's a shortage of doctors…Certain AI enabled technologies could also make health monitoring personalized and continuous."
Doug Fisher, senior vice president and general manager of the Software and Services Group at Intel said, "We are encouraged and inspired by the potential for developers to solve real-world problems with AI hardware and software solutions based on Intel® architecture. In this instance, AI can help healthcare professionals understand a patient's unique soft tissue structures so the provider can make the correct diagnosis and tailor the treatment to the patient. Congratulations to the developers who contributed their time and talent to solve this life-threatening problem. Intel is committed to helping scale AI solutions through the developer community by making AI training and tools broadly accessible through the Intel AI Academy."
About MobileODT
MobileODT builds portable, smart, connected medical devices to enable health providers to reach every patient, everywhere. Their first product, the FDA-cleared EVA System, is being used across 43 health systems in the United States, and by public and private providers in 26 countries around the world for cervical cancer screening and diagnosis, and forensic colposcopy for sexual assault examinations. The EVA System has been developed to serve as a practical solution to the challenges of resource-limited healthcare: affordable and practical for the nurse or general practitioner at the point-of-care and point-of-treatment, and powerful enough to be used by expert clinicians as a replacement for their larger, more expensive devices, everywhere.
About Kaggle
Kaggle offers a platform for predictive modeling competitions that helps companies, governments, and researchers identify solutions to some of the world's hardest problems. By using a competition format to introduce challenges to a community of nearly 17,000 data scientists, Kaggle helps organizations achieve the best possible predictive accuracy. Kaggle was founded in 2010 and is based in San Francisco, CA.