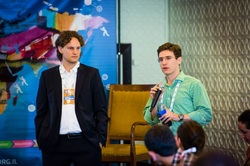 [From SDJewish World]
CAESAREA, Israel  (Press Release)–Helen Clark, administrator of the United Nations Development Programme (UNDP), has begun her first visit to Israel and participated Wednesday morning, Feb. 19, in the ID² – Israeli Designed International Development, the young entrepreneurs' conference held in Caesarea, organized by the Schusterman Family Foundation and sponsored by MASHAV and Tel Aviv University. The UNDP Administrator is considered to be the third most senior official within the UN System.
The visit represents an additional step in the strengthening of the relationship between Israel and the United Nations, and positions Israel as an important United Nations partner vis a vis the UN agenda aimed at the eradication of poverty, economic development and job creation.
During her visit to the conference this morning, Clark, a former prime minister of New Zealand,  showed great interest in many of the new innovations that were presented. She was particularly excited by the innovation of glow in the dark plants to  replace the electric lightbulb, presented by Anat Reichman from Israel; and the MobileOCT app, which is a medical device company seeking to eradicate cervical cancer by making screening as ubiquitous as mobile phones, represented by Ariel Beery from Israel.