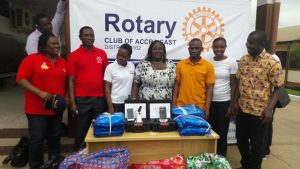 The EVA system can travel by car, plane, train…and now by boat! Recently, the Rotary Club of Accra East, led by Rotary President Ms. Gertrude Adzo Akpalu, delivered their donation of two EVA (Enhanced Visual Assessment) System mobile colposcopes to the Gynecology Department at Catholic Hospital in Battor, Ghana. The colposcopes were received by the Nurse Manager of the hospital, Mr. Philip Diame, who stood in for the hospital management team. 
Cervical Cancer is the second most common cancer in women living in less developed regions. In 2012 there was an estimated 445,000 new cases which was 84% of the new cases worldwide*. This donation is another step towards lowering these numbers in underdeveloped countries and worldwide. 
After the donation, North Tongu District Director of Health Services Mr. Evans Attivor, led the team across the Volta River. Head Gynecologist, Dr. Kofi Effah, led the clinical team in the screening using the EVA System in Dorfor Adidome, one of the remote communities in the North Tongu District. 
The screening was immensely successful and users reported better magnification of the cervix, and the ability to share images with other experts. Women also appreciated being able to see images of their own cervix (#CervixSelfie). This is the first deployment of the EVA System in Ghana and its early success highlights the importance of pre cervical cancer screening in remote areas. 
MobileODT is committed to reaching remote areas like Battor and Adidome in order to screen more women for cervical cancer. We want to thank Rotary Club of Accra East, Ms. Gertrude Adzo Akpalu, Mr. Philip Diame, Mr. Evans Attivor, and Dr. Kofi Effah for their fantastic work. We look forward to supporting more cervical cancer screening locations in Ghana with the EVA System.
*Human Papilomavirus (HPV) and Cervical Cancer, World Health Organization,
http://www.who.int/mediacentre/factsheets/fs380/en/