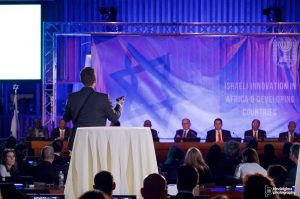 We are excited to share with you that last week, at the UN General Assembly in New York, our CEO Ariel Beery had the privilege of presenting the EVA System in front of more than eighteen presidents, prime ministers, and foreign ministers from Africa and developing countries. It was an incredible opportunity to present to and collaborate with important leaders of countries where the incidence of cervical cancer is incredibly high. 
The event was hosted by the Prime Minister of Israel, Benjamin Netanyahu and highlighted Israeli innovation in Africa and developing countries. Several Israeli companies changing the fields of health, agriculture, and education presented on their work in Africa. 
This comes at an exciting time as, with the help of Rotary Club of Accra East, Ghana, we have just deployed our first devices in Ghana and have existing partnerships and devices in several other African countries including Ethiopia, Ivory Coast, Kenya, Rwanda, Ghana, The Gambia, and Mozambique. Together with local medical providers in Africa, we are working hard to lower the staggering number of women who are diagnosed with cervical cancer every year in developing countries. 

Thanks to the Israel Mission to the UN, who included us in this event, we can continue to work with fantastic leaders to help improve access to high quality, affordable medical devices and health education in developing countries.