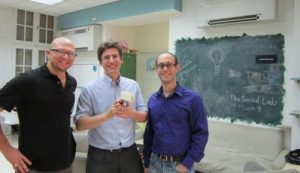 Early diagnosis of cancer can mean better chances of survival. A Tel Aviv startup is working to bring cervical-cancer assessment to two billion women worldwide who have access to cellphones but no access to qualified physicians.
The company recently closed a $600,000 seed round of financing, including an investment from the United States tech and sports executive Mark Cuban. And it's getting close to production and sale of the device.
The company is currently running pilot programs with Partners in Health in Haiti, Massachusetts General Hospital's global health group in Kenya, a joint Botswana-University of Pennsylvania health program, Pro Salud in Mexico and the Scripps medical center in San Diego.
Backing MobileOCT are a number of investors: Hillel Bachrach, managing partner of 20/20 HealthCare Partners and a co-founder of what is now Lumenis, the medical-laser producer; Mark Cuban, owner of the Dallas Mavericks pro-basketball team; Michael Eisenberg of the venture fund Aleph; Jonathan Fleming, the Boston biomedical investor; Hong Kong investment firm iVentures and New York private-equity investor Alyson Krause.