WEBINAR:

EVA WELL
A new vision in women's health
leveraging digital solutions to increase patient satisfaction and retention
Women's expectations of their healthcare providers are changing. They expect to take an active part in their care. Patients now select providers based on their satisfaction with their overall experience, and not just on the medical expertise of the clinician alone.
Meet EVA WELL – an enhanced digital visualization tool for vaginal, vulvar, and cervical examinations designed to bring a new level of patient empowerment and engagement to your OB-GYN practice.
Watch on demand MobileODT's latest webinar, featuring Dr. Jonah Mink, to learn how EVA WELL enables women's health clinicians to improve the patient experience.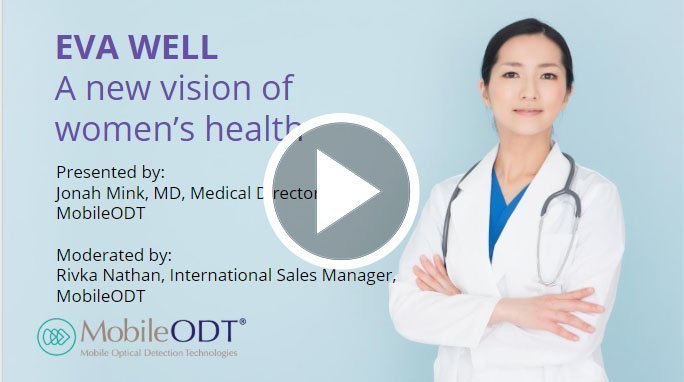 Webinar participants will:
Learn about the key features of EVA WELL such as improved documentation, teleconsultation, and image casting
Discuss use cases in functional gynecology such as laser-based treatments, vaginal atrophy, and lichen sclerosus
Gain skills for empowering your patients with EVA WELL for use in general gynecology
Learn about expanding your practice through teleconsultation with EVA WELL
Led by Jonah Mink, MD
Jonah Mink, MD is a family doctor and Medical Director at MobileODT. He received his training in Family Medicine and Community Health at the University of Pennsylvania, where he also completed a Health Care Quality and Leadership fellowship. Jonah has worked as a family doctor ever since. His experience in clinical practice and quality improvement in the US healthcare system enables him to guide health technology companies towards optimization of their offering for clinical relevance, market entry and pathways to growth.
Fill in the Form to Watch Now!