The importance of addressing the needs of special populations in women's health
Join Dr. Sue Sherman, Ph.D. from Keel University, UK, as she shares her experience researching psychosocial aspects of patient experience and attitudes surrounding women's health.
Women's health issues touch on some areas that are at best intensely private and at worst shrouded in taboo, such as sexual activity and reproductive health. As a result, cultural, religious and societal differences can have a profound impact on a patient's healthcare experience.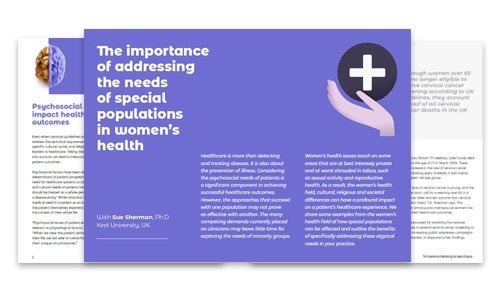 In this guide you will learn:
The challenge with standardized guidelines
How guidelines 'disadvantage' some populations
How psychosocial factors impact healthcare 
Case study of the Eastern European migrant community in the UK
The power of patient empowerment
"When we view the patient within the wider context of their life, we are able to create healthcare solutions that fit their unique circumstances."
MobileODT Women's Health Special Populations Project
MobileODT has the honor of working with women's health clinicians around the world. Increasing immigration and shifts in social norms have led many healthcare providers to interact with patients from unfamiliar backgrounds with unfamiliar considerations.
Our Special Populations Project taps into the collective knowledge within the network of EVA System users that spans 42 countries, to give other clinicians an insider's view on certain special populations.
These guides are intended to start the conversation and to give clinicians an initial sense of the issues involved. Official protocols and local guidelines should be adhered to in every case.