Female veterans' gynecologic needs
Join Cherissa Jackson, Chief Medical Executive of the AMVETS HEA Program, who herself completed four tours in Iraq and Afghanistan, as she shares common health concerns that develop during and after active duty.
The increasing number of women serving in the military raises new challenges for civilian clinicians to treat medical conditions common among female veterans. 
The military requires that servicemen and women are 'deployment ready' at all times. Therefore, preventative medicine and screening is prioritized. However, the physical and mental demands of serving in active duty cause women to develop unique reproductive health risks.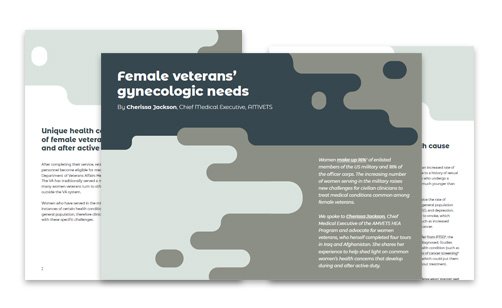 In this guide you will learn:
Unique health risks among females on active duty
Implications of post-combat PTSD
Socio-psychological impact
Women's health requirements in the military
"Once deployed I found women's health issues would often take a back seat to the 'mission'. With so many critical medical situations occurring, many women feel that their health needs are insignificant."
MobileODT Women's Health Special Populations Project
MobileODT has the honor of working with women's health clinicians around the world. Increasing immigration and shifts in social norms have led many healthcare providers to interact with patients from unfamiliar backgrounds with unfamiliar considerations.
Our Special Populations Project taps into the collective knowledge within the network of EVA System users that spans 42 countries, to give other clinicians an insider's view on certain special populations.
These guides are intended to start the conversation and to give clinicians an initial sense of the issues involved. Official protocols and local guidelines should be adhered to in every case.