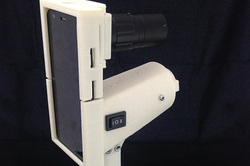 By Amir Mizroch
Doctors already use iPhone add-ons to take electrocardiograms just about anywhere. Apps can help radiologists read images and allow patients to monitor moles to determine if they're a cancer worry
MobileOCT, an Israeli tech company, has unveiled the latest advance in mobile medicine. It's a smartphone-fitted colposcope aimed at developing countries like Kenya, Rwanda and Haiti, desperate for cheap ways of detecting cervical cancer, a major killer in these places.
MobileOCT's mobile colposcope consists of hardware that attaches to the phone, and a software app that uploads photos and accompanying data to a database for further examination. The company has given the device to aid organizations who are testing it in the field.
"What we have is a mobile colposcope that costs $400 instead of $10,000," says Ariel Beery, MobileOCT's chief executive. The device won the Vodafone Americas Foundation Wireless Innovation Project award, a competition for phone technologies that can be deployed in the developing world.
In January, the device was validated—shown to provide images in the same magnification and resolution of skin tissue as a comparable instrument—by Dr. Bruce Kahn at Scripps Medical Center in San Diego.
Scripps is the clinical trial partner to MobileOCT's scanner.
The mobile colposcope is going into pilots in 6 countries together with partners like Partners in Health, Massachusetts General Hospital's Global Health Group, UPenn's Botswana Group, Scripps, and the Montefiore Medical Center.
The company was started 18 months ago, and is still in its startup phase. Results from clinical trials are pending. There are thus no peer-reviewed articles about their device yet. It has raised U.S. $225,000 in funding.