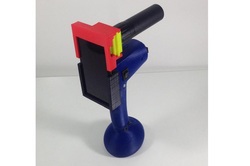 By Jason Hahn on Digital Trends
There are plenty of nifty smartphone accessories out there today, but how many of them can potentially save lives? MobileOCT is one of the latest startups to raise their hand to that question. The self-described "point-of-care diagnostics company" based in Tel Aviv, Israel, has developed a 3D printed smartphone accessory that leverages a mobile phone's camera to detect cancer.
MobileOCT (pronounced "Mobile Oh-See-Tee" – the "OCT" stands for optical coherence tomography) is starting out by pushing its mobile colposcope, which is a magnifying device used to take images of the vagina or cervix. The company's first target is cervical cancer, which takes the lives of more than 275,000 women each year, according to Cervical Cancer Action.
The $400 device comprises a case, colposcope, handle and adjustable lights. The case itself is 3D printed, which removes the cost and time involved with shipping.
"Our mission is to give anyone with access to a mobile phone the ability to save their lives and the lives of the people they love," said Ariel Beery, CEO of MobileOCT, in an interview with BBC. "And the best way to do that is to make the hardware open source."
Read more below or at: http://www.digitaltrends.com/mobile/mobileoct-uses-low-cost-3d-printed-case-turn-smartphones-cancer-screening-devices/#ixzz350TF9sHv
Follow us: @digitaltrends on Twitter | digitaltrendsftw on Facebook
Read more: http://www.digitaltrends.com/mobile/mobileoct-uses-low-cost-3d-printed-case-turn-smartphones-cancer-screening-devices/#ixzz350SznbGM
Follow us: @digitaltrends on Twitter | digitaltrendsftw on Facebook