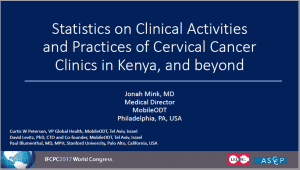 DOWNLOAD THE PRESENTATION HERE >
Objective: Without national screening program and cancer registries, it is difficult for cervical cancer programs to make operational and policy decisions. To improve resource allocation and training, MobileODT will continue to share anonymized data on clinical activities and practices accumulated in its databases with the wider gynecology community. MobileODT's EVA System, a cloud-connected mobile colposcope on a smartphone platform, has been deployed in 23 countries. The EVA System smartphone app collects basic patient data, including age and HIV status, as well as diagnostic impression (normal, dysplasia, cervicitis, cancer) and the administered therapy if relevant, on MobileODT's HIPAA-compliant image portal.
Methods: As a sample analysis, practitioner practices in Kenyan clinics were compared. Specifically, data from five screening camps were compared to two stationary clinics open year-round. Rates of dysplasia, cervicitis, cancer, and cryotherapy were tabulated.
Results: Altogether, 1155 patients were seen in screening camps and 316 in stationary clinics. Of the 1155 screening camp patients, 261 had abnormal findings and 25 received cryotherapy. Of the 361 stationary clinic patients, 89 were abnormal and 36 received cryotherapy. Among the abnormal patient populations, dysplasia rates were 38% and 58%, cervicitis rates were 34% and 20%, and cancer rates were 20% and 15% for screening camps and stationary clinics, respectively.
Discussion: Information on abnormal findings provides a unique insight into clinical practice at cervical cancer clinics to improve planning and resource allocation. Additional analyses presented will show the above rates as a function of geography, practitioner training, patient population, patient visit number, and other test results (HPV, Biopsy).