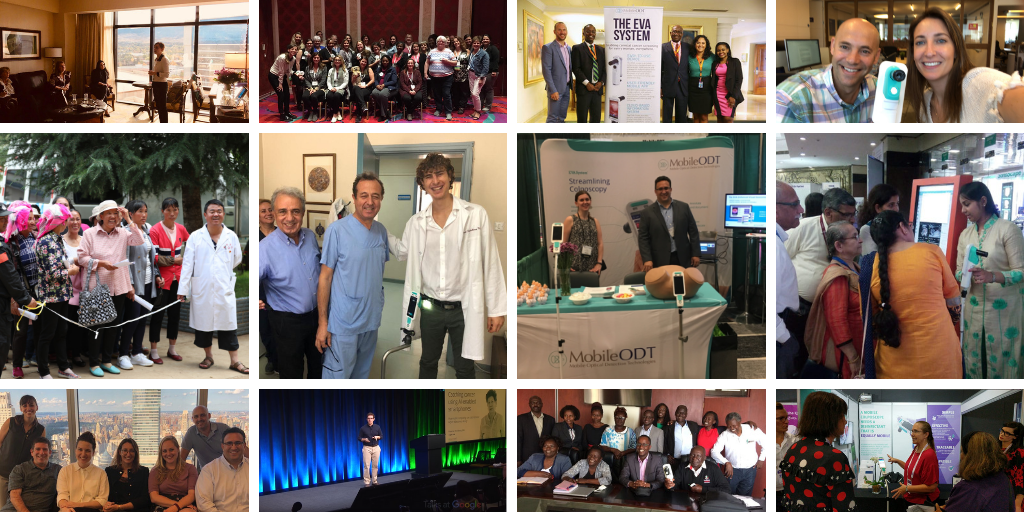 2018 has been a year of amazing opportunities for MobileODT to help health providers care for women around the world. We feel privileged to be involved in dramatic advances made using our EVA System in all of our key areas of colposcopy, SANE, global health and academic research. We are proud to share a snapshot of that journey with you and invite you to look ahead to what's coming down the road in 2019.
Telecolposcopy: enabling access to expert examinations
With tens of millions of women worldwide lacking access to a gynecologist, and nearly half US counties lacking OBGYN coverage, millions of women lack essential gynecological services. In the US, this number may exceed 10 million women — the number of female residents total in many countries worldwide. Telehealth solutions hold the promise to correct this imbalance bringing women's health services to rural and underserved communities. We conducted a thorough analysis of the progression of the OBGYN crisis in the USA and concluded that the EVA System can uniquely help expand coverage to these underserved women.
Beyond its mobile and easy-to-use nature, the EVA System's digital capabilities enable a remote connection between either two EVA Systems or between one EVA and a user connected to our online portal. This connectivity allows for quality control and remote collaboration for users to receive real-time input on captured images. It now enables remote care in the US unlike ever before.
Telecolposcopy takes the process one step further and allows an expert physician to oversee the colposcopy procedure as it takes place in real time through video linkup.
This way, a less experienced clinician can perform a colposcopy with direct guidance from an expert. They can be guided in which sites to select for biopsy, receive confirmation of the correct diagnosis. This proves especially useful for clinicians needing to complete the 20 supervised colposcopy procedures required to receive ASCCP certification.
Our first full telecolposcopy program was launched in collaboration with FPA Women's Health to bring advanced colposcopy services to its 25 clinics around California.
Read more about how FPA Women's Health advanced their clinician training with telecolposcopy>>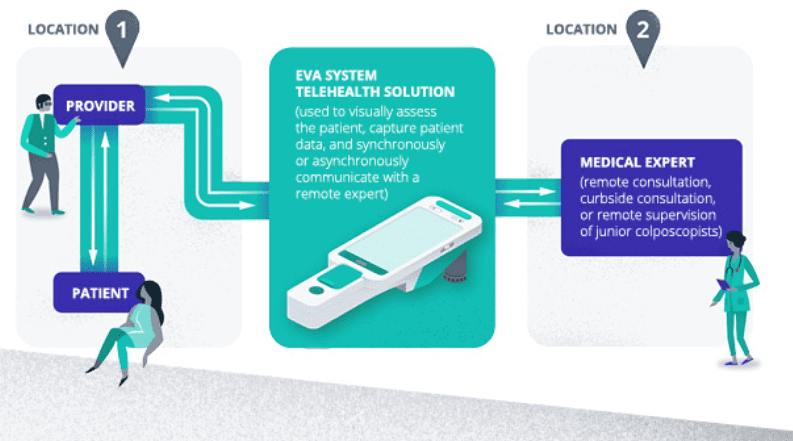 EMR integration: athenahealth and beyond
The EVA COLPO helps physicians streamline workflow, from the recording of patient information to the ease of image transfer to electronic medical record systems. Users of the EVA System no longer need to look through their colposcope one second and turn around and type on the computer the next. They can record, annotate, and add notes to everything they see while the woman remains on the table.
This year, MobileODT took this one step further, achieving integration with the athenahealth system, one of the USA's most used EMRs. Now patient information and images  upload directly to their EMR records from the EVA System.
This integration saves physicians an average of 4 minutes per exam on reduced record taking. Over a full day at patient appointments, this time-saving compounds to allow an extra exam for every 4 exams at the previous speed. Said simply, in the time it once took to see four patients, now you can see five.
Are you an athenahealth user? Sign up here for our waitlist to integrate your colposcopy practice with your athenahealth EMR.
EVA 3 Plus launched
We strive to make  EVA better and better over time and give healthcare providers the ability to provide the best service to their patients using cutting edge technology. We invest heavily in improving EVA both in its software and its hardware so that EVA will serve as a full solution for cervical cancer screening, diagnosis, and monitoring. The ASCCP Annual Conference in Las Vegas provided the perfect place to launch our newest generation, the EVA 3 Plus.
New features include a larger screen, higher resolution images, and a brighter LED illumination.
Feature additions took all our users into account. For example, the quick release option removes the device from the optical unit and has a lock-in capacity, making the same device equally effective for users in SANE or low resource settings.
Learn more about the EVA 3 Plus>>

MobileODT attends IPVC
What a year to be at IPVC! The IPVC conference brings together the leading researchers and policymakers on HPV related diseases. This year's event will certainly be remembered as a critical junction in the fight against cervical cancer. We were honored to host a break-out session sharing EVA's success in this international forum. We were joined by Dr. Rachel Steward and Bonnie Betts, RN, from FPA Women's Health, and Dr. Mauricio Maza, Director of Global Health international.
Read more about the IPVC Conference>>
On everyone's lips was the announcement of the success of the Australian HPV vaccination program. Headlines around the world echoed the discussion in the conference halls. Will the HPV vaccination mean the end of cervical cancer? While journalists jumped to conclusions, the delegates at IPVC were more circumspect. You can read our full analysis here (Spoiler alert: the answer is not yet.)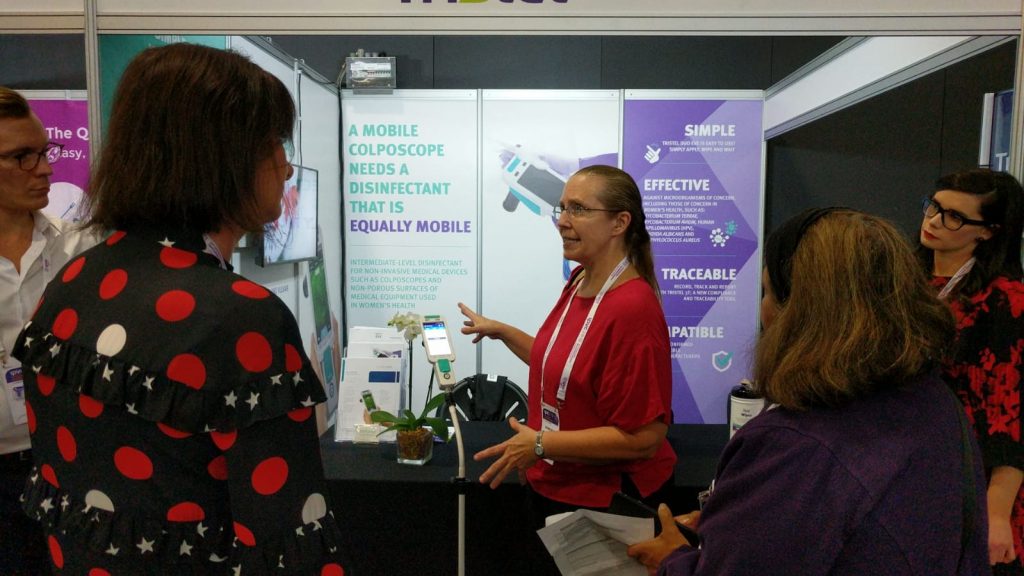 Bringing justice to sexual assault survivors
In the worst of times, sexual assault nurse examiners (SANEs) provide sexual assault survivors with compassion and care while collecting essential forensic evidence. EVA found passionate advocates in the SANE community who recognized that the compact device was a game-changer. EVA's secure portal ensures that the chain of custody is maintained at the highest level. The small size of the device makes it discrete and unintimidating.
This year saw great expansion in EVA deployments within the SANE world with 54 new programs integrating the EVA in their work. We feel proud to have been chosen by the CJCC in Georgia, USA, for deployment throughout the state. All CJCC backed programs now use the EVA System.
Would you like to share your story with the EVA SANE community? Sign up to be featured on our blog or share your experience in a webinar>>
The EVA community comes together at IAFN
This year's IAFN (International Association of Forensic Nurses) saw something unique. Existing EVA users shared with each other and with us how they leveraged the EVA technology to help each other as a community. The first ever EVA user meetup was a great success with 35 representatives from around the USA coming together to share their knowledge of how to best care for patients in their time of need. We got to know each other, shared tips for using EVA, and discussed plans for the future.
Taking part in the largest ever HPV self-swab trial
Screening 4,000 women in six days was an ambitious plan. We thrive on striving further, so we immediately said," yYes" when Robert Lipson, CEO of United Family Hospitals in China asked us to join Dr. Andrew Goldstein, George Washington University School of Medicine, to take part in the largest ever self-swab trial in Yunnan Province, China.
After six days of immense teamwork from the Chinese staff and foreign volunteers, 3,886 women had been screened for HPV, 168 colposcopies were performed with the EVA System, and 40 women received on-site treatment.
Are you working on a clinical trial or expanding access to care with self-swabs? Contact us to hear how EVA can be used to reduce time, expenses, and unsatisfactory clinical records in clinical trials and large-scale screening deployments.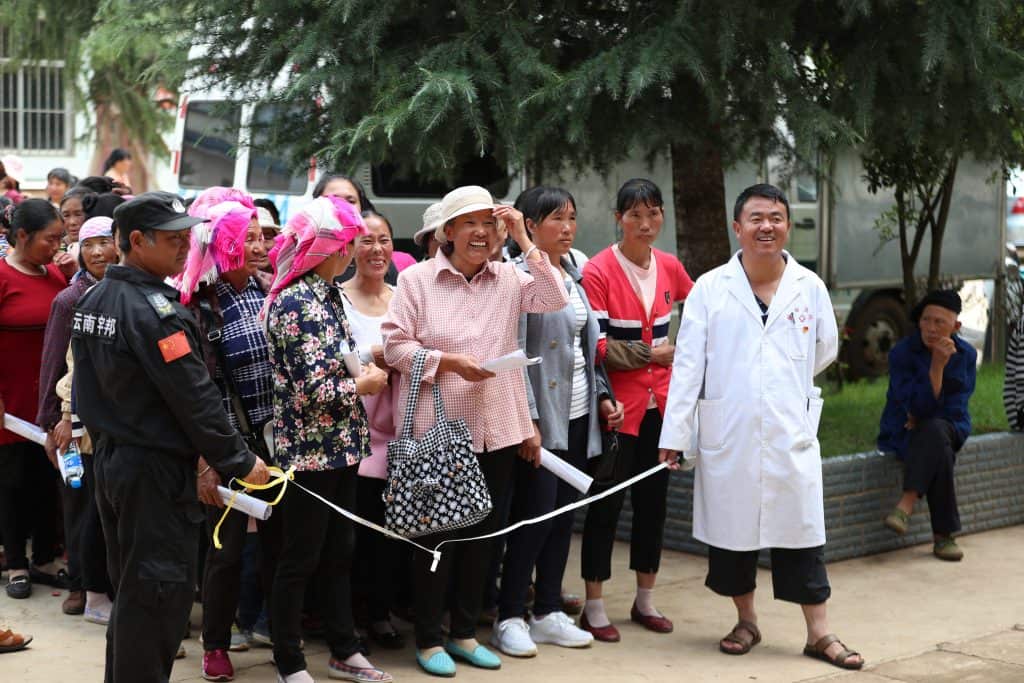 GE Healthcare and MobileODT collaborate
Ensuring women's health requires a community of actors, each with their own roles and responsibilities. We partner with organizations, companies, and health systems who can address the wider healthcare needs of a population. Reaching out to explore potential areas of collaboration is an important part of the MobileODT culture.
We are excited to be working with international giant, GE Healthcare, to explore how new technologies can improve access to care. Together breast cancer and cervical cancer represent the most common female cancers. We feel optimistic that this pilot study will produce actionable results forwarding early intervention for breast and cervical cancers.
Learn more about the study in Kisumu County, Kenya>>
Sending EVA further around the world.
The EVA System is used in 27 countries around the world and in over 50 healthcare systems in the USA. With such a high international demand for EVA, we work hard to create partnerships with local distributors. This gives current and future EVA users a local point of contact to guide them in their journey with the EVA System with full linguistic and cultural understanding.
We are excited to announce that in 2019, EVA will be available in the following markets through our wonderful distributors and partners: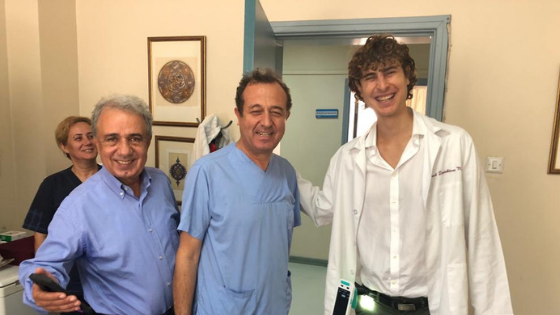 Turkey

Greece

Romania

Ukraine

Poland

Belgium

France

UK

Norway

Sweden

Singapore

Philippines

Thailand

Vietnam

Hong-Kong

Australia

New-Zealand

Israel

South Korea
Working with the NCI in Nigeria
The EVA System is used by researchers around the world to capture and store high-quality cervical images. One of the many in 2019 was a study conducted together with the National Cancer Institute (NCI) looked at HPV screening methods in Nigeria. Aiming to monitor 1500 women over a five year period, the study assesses age-specific HPV prevalence, epidemiologic risk factors, the performance of screening options, and the correlation of HPV infection among co-wives.  It seeks to validate the performance of rapid HPV testing for public sector use in similar settings.
Can we help you with your clinical trial? Contact us to explore how EVA can help reduce costs and time for clinical trials.
Towards the future
Augmented Intelligence and Machine Learning
2018 was a year to remember. 2019 promises to surpass anything we've seen before. Even as the EVA System is being used throughout the world in many clinical scenarios, our research and development teams continue to reach for new horizons in women's healthcare.
Augmented Intelligence (AI) holds the promise to revolutionize cervical cancer screening.
If cancerous or precancerous lesions can be detected with a single image, then the dream of bringing reliable cervical cancer screening to every woman becomes possible.
MobileODT has the largest dataset of cervical images and related health data in the world. We see it as our duty to leverage that data to bring better healthcare to women everywhere. AI is the vehicle we use and has already proven incredibly effective as shared in keynote presentations at IPVC and Eurogin this past year.
I shared the MobileODT vision for the future at my recent Google Talk in New York.
Interested in partnering with us as we expand our AI's capacity to help healthcare providers increase access to care and efficiency of service provision? Please let us know.
Tele-SANE
Telehealth is no longer bound to simple video conferencing for a face-to-face consultation. We now use the same connectivity that enabled us to launch telecolposcopy, to enable tele-SANE programs to launch across the US.
This ensures that no victim is out of reach of capable providers, especially in the area of sexual assault forensics where some clinicians may only see one case per month, having remote oversight of procedures can be game-changing.
Would your hospital or clinical network like to launch a tele-SANE program? Let us know if we can help you expand your SANE services.
New products and services made available through software
We are about to launch two new products and services in early 2019 that will expand the value of the EVA System dramatically for clinical and hospital networks, and for organizations engaged in education and supervision. The new software will dramatically increase our ability to adapt to the rapidly developing technology, keeping our users and the EVA System at the cutting edge of healthcare.
MobileODT was founded with a goal: to save as many lives as possible, as quickly as possible. We strive to put the most advanced affordable technology into the hands of clinicians wherever they are around the world. As a new year starts, we look forward to bringing cervical cancer screening to the next level.
Wishing you a happy healthy new year!
Ariel Beery
CEO and Co-Founder