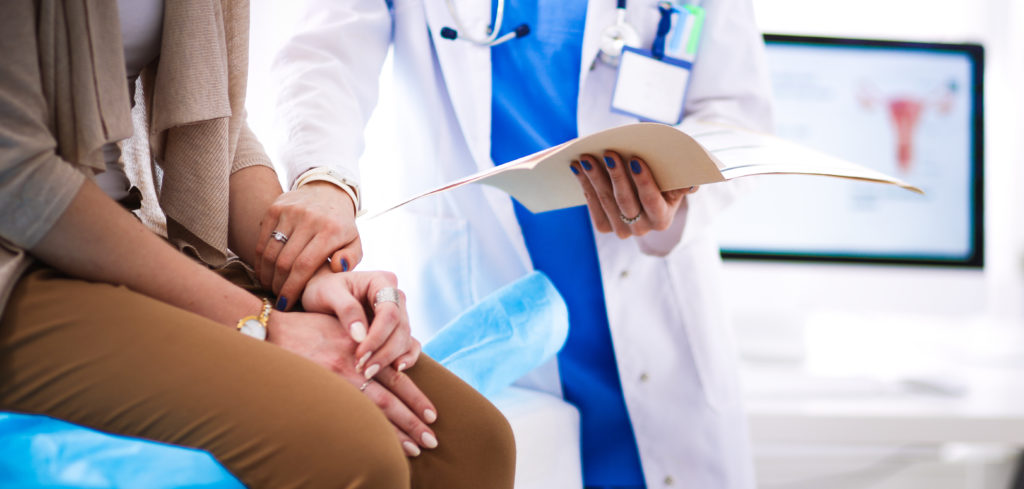 Although clinicians aim to provide the best service possible, OBGYNs worldwide continue to face widespread obstacles in delivering treatment. We spoke with international experts to hear their input on the five biggest challenges facing OBGYNs around the world.
1. Fear of treatment and diagnosis
For many women, psychological factors, such as fear of painful tests and anxiety of diagnosis, play a major role in deterring them from attending regular treatment.
This has significant repercussions in countries like India, where, despite growing efforts to promote women's health, 77,300 new cases and 37,800 deaths of cervical cancer occur annually, according to a 2018 report published in The Indian Journal of Medical Research.
Dr. Leela Digumarti is a Gynaecological Oncologist at the Homi Bhabha Cancer Hospital & Research Centre, in Visakhapatnam, India. She observes, "Although women are keen to attend awareness programs, they avoid screening. Fear of being diagnosed with cancer prevents women from coming in for routine exams."
The International Agencies for Research on Cancer further supports that patients fail to attend screenings due to "fear of pain" or "fear of detection of any abnormal pathology."
Clinicians can ease patient fears through targeted reassurance, including enhanced, prognosis-specific education and increased patient engagement. For example, a 2013 study observed the positive impact of educating patients in relieving patient concerns related to diagnosis using 3D models.
2. Lack of trained OBGYNs
In the United States, nearly half of all counties lack a practicing OB-GYN and The American Congress of Obstetricians and Gynecologists projects a shortage of up to 8,800 OB-GYNs by 2020. Pew Trusts predicts that number to rise to 22,000 practitioners in the decades that follow.
The shortage of trained OBGYNs persists worldwide. In recent years, Korea has also seen a declining number of clinicians entering the profession, where many doctors choose specializations outside of obstetrics and gynecology. Dr. So Young Kwon, Director of Riz OB-GYN Clinic, South Korea, explains:
"The birth rate is rapidly falling in Korea. With less and less babies, obstetricians and gynecologists are seeking areas other than labor and delivery. To make matters worse, rather than taking adverse outcomes in delivery as "inevitable", the patients are filing more and more lawsuits against doctors."
To counteract the shortage, clinics have started using live teleconsultation tools that enable specialists to oversee exams remotely, connecting expert and non-expert providers independently of where they are located.
3. Patients avoid exams and treatment for financial reasons
In many healthcare systems, payment procedures and lack of financial resources often get in the way of treatment. Many health systems require women to pay out-of-pocket for routine exams, which can deter women from attending regular screenings.
As Dr. Digumarti explains, "In India, women are keen to attend awareness programs but not for screening, as nobody wants to pay from their pocket for HPV vaccinations. Women like to spend money on anything other than health."
Administrative issues also interfere with patient care in Korea, where the government provides reimbursement for Pap, and sometimes, HPV testing (if Pap presents abnormalities). However, all women in private clinics must pay for cervicography through their private insurance.
4. Lack of access to the latest treatment and screening technologies
Many clinics lack the resources for access to crucial, yet expensive, medical equipment.
In Korea, doctors refer patients to colposcopy for abnormal cervical cytology and/or high-risk human papillomavirus infections. But, as Dr. Kwon notes, "In our meetings with various private OBGYNs, it came up that many of them are performing biopsies and LEEPs on women, using their naked eye."
New AI-based technology uses visual assessment tools to detect precancerous and cancerous lesions based on digital images that cost less than expensive colposcopy equipment. This has proven effective in underserved communities like Korea, where early trials, completed and presented at the 2019 ASCCP annual conference, show promising efficacy of the MobileODT AI-based cervical cancer screening test, including cervicography and cytology, conducted on live patients.
5. Lack of awareness and education of women's health
Many women still lack awareness when it comes to gynecological and reproductive health, and, as a result, fail to show up for their routine exams. This has life-or-death consequences, particularly when it comes to preventative diseases such as cervical cancer.
In Poland, the former program that contacted women on an individual basis to inform them about local screening options discontinued in 2015. Since, the mortality rate of cervical cancer in the country has drastically risen. Today approximately 3,500 Polish women are diagnosed with cervical cancer annually, with a survival rate of only 1 in 2. Early screening, in most fatal cases, would have prevented cancer from progressing and saved their lives.
To meet this challenge Director of the Medi-Lab Obstetrics and Gynecology Clinic in Świdnica, Poland, Dr. Zbigniew Wróbel, notes:
"Looking at women's increasing awareness of the options in aesthetic medicine and aesthetic gynecology, it is extremely puzzling that the number of women coming for preventative screening examinations, such as for cervical or breast cancer, is decreasing. We must educate women about the need for screening."
To educate patients, he uses the EVA System mobile colposcope, a portable, Internet-connected, and FDA-cleared colposcope that captures images at point-of-care. In this way, clinicians can help patients understand their health condition, diagnosis, and treatment options through educational image review.
"This gives me great flexibility in my practice. It is particularly important to patients that we capture good quality images to help them understand the medical procedure they are undergoing," says Dr. Wróbel.
Many obstacles prevent women from attending regular exams, causing potentially treatable diseases to progress and become fatal. Addressing these concerns through innovative technology can expand the network of OBGYNs and empower patients to seek routine treatment.