You have to start somewhere. For many students, their career started with a unique opportunity to touch lives around the world, and their 'start' has helped MobileODT move from a start-up to an established business.  
MobileODT has a far reaching vision; to save as many lives as quickly as possible. To achieve this vision, we are committed to bringing the brightest minds from around the world to undertake this mission. The MobileODT internship program has provided an essential role in the company's  rapid growth and the development of the EVA System. We learn and gain as much from our interns as they do from us.
As a small startup with a big idea but little capital to develop it, interns have played a key part in the growth of MobileODT. When MobileODT was founded, the contributions of interns enabled the company to move forward.
"We had a vision that became the EVA System," explains co-founder David Levitz. "We needed help to develop that into a practical marketable reality. We had our first intern before we had our first office."
The popular stereotype of interns running to make the coffee without gaining any real work experience couldn't be further from the case at MobileODT. Yael Misrahi, MobileODT Director of Global Partnerships, explains, "This summer, as we are working on integrating new features into our product offering, we actively recruited interns who would be able to help with that drive."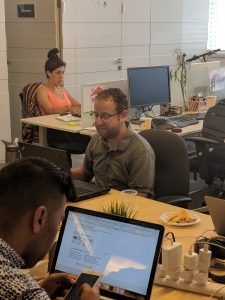 This led Alex Schwab, a senior studying Healthcare Administration Policy at George Mason University, VA, to join the team for the summer. His work conducting market research into insurance reimbursement codes and their regulation has helped form MobileODT's business strategy.
MobileODT gained an enthusiastic worker with a specific skill set to complete a short-term project. Alex felt equally happy with his takeaways. "I wanted to see the real world application of the material I'm learning in school. At MobileODT, I was able to make a genuine contribution."
Cyril Cohen is returning home with more than just solid work experience. Interning in MobileODT's Tel Aviv headquarters, Cyril discovered a very different company culture. "There's no hierarchy here. People talk to each other like friends." This is very different to his native France where he studies mathematics at the University of Paris.
The openness and warmth of MobileODT's culture surprised intern Mohe Alshawamrah. A Palestinian native, Mohe did not expect to find such a warm welcome in the heart of Tel Aviv. Mohe is studying for his MBA at Soosgsil University, Seoul, South Korea. He joined MobileODT for six months as part of the Palestinian Internship Program.
"They call Israel the 'start-up nation.' I wanted to see for myself," he explains. "It's already been an amazing experience, and I've only been here for 6 weeks."
Working with interns allows MobileODT to incorporate aspects from many disciplines. Whitney Elmlinger is studying at the Wharton School of Business at the University of Pennsylvania. She joined the MobileODT Product team to conduct market analysis into potential new partnerships. "I wasn't expecting to get such a detailed view of a company. I've really been able to attend high level meetings and make a contribution. It's fascinating to see how all the parts come together to make one product."  
Returning home can be the hardest part of the MobileODT internship process. Aliyah Arunasalam went back to finish her Masters in Mechanical Engineering at the University of Southern California.
"I learned things at MobileODT that I wouldn't have in school. I saw how adaptable you need to be when designing for real world applications."
MobileODT is grateful for the contributions all our interns have made and wish them all the best in their future careers. For some it might not be the last they see of MobileODT, interns have been known to return as permanent employees once they finished their studies.
To learn more about internship opportunities at MobileODT email: careers@mobileodt.com